Elizabeth (Betty) Whiteside lived all her life in the Officer/ Beaconsfield area and was loved by many as a musician, music teacher and historian.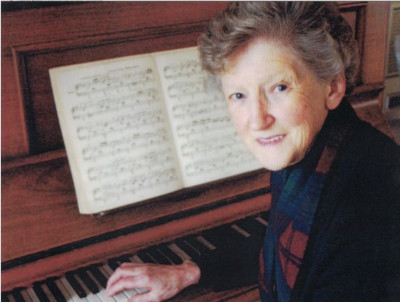 Her father Thomas Clair Whiteside served in World War I and Betty published a book of his letters. Sadly she passed away last year but her legacy lives on in this bequest her family has made to St Margaret's Berwick Grammar.
More details of Betty's life are included in the story in the Beaconsfield Banner Summer 2020/21 edition.
Elizabeth Whiteside Bequeathal Press release from St Margaret's Grammar
St Margaret's Berwick Grammar has recently received a generous donation of a Kawai Grand Piano and a new Concert Marimba, for the school's orchestral program.
This has been made possible through funds from the Estate of Elizabeth Whiteside. Ms. Whiteside was a student of St Margaret's from 1939 to 1941 and a Piano Teacher at the school from 1973 to 1984.
Ms. Whiteside was also the champion and advocate for music education and performance throughout the South-Eastern suburbs of Melbourne and a proud supporter in the inception of the Dandenong Music Eisteddfod and the South East Arts Festival. She was also a highly proficient accompanist, supporting hundreds of students in examinations and performance.
The school has recently commissioned a new room, the Elizabeth Whiteside Accompanist Studio, which will house the new grand piano and provide a professional instrument for students to develop skills in ensemble, accompaniment, and performance.
In addition, to support Ms. Whiteside's passion for ensemble work, a new Concert Marimba has been donated. This will be an impressive addition to the orchestral percussion section in the SMBG Symphony Orchestra and a debut performance of a Marimba Concerto has been scheduled in October.
The St Margaret's Berwick Grammar community is extremely grateful for the generosity of Ms. Whiteside's family and the instruments that have been donated will be a lasting legacy and memory of her commitment and passion for music education, for generations to come.