Service Number: 521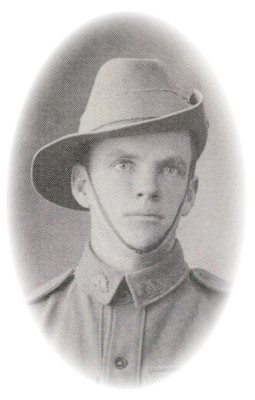 Rank: Private
Roll Title: 5 Infantry Battalion
Date of Embarkation: 21st October 1914
Place of Embarkation: Melbourne
Ship Embarked on: HMAT Orvieto A3
Age: 21 years
Born: 14th April 1889, South Yarra, Victoria.
Father: Francis Wellington Were, Martinhurst, Cromwell Road, Hawksburn Victoria.
Mother: Annie Isabella (McVean)
Religion: Church of England
Occupation: Farmer
Residence: 27 Cromwell Road, Hawksburn, Victoria.
Joined AIF: 17th August 1914
Height: 5 feet, 9 inches
Complexion: Dark, Eyes-Grey, Hair-Brown
In 1914 Clive owned 250 acres, Lots 15 & 16 Pakenham, the land on the right between Siding Avenue and Cardinia Road and 152 acres; Lot 50 down off McGregor Road when looking at the Parish maps. Clive's father Francis Wellington Were was a stockbroker who owned Lots 44, 197 acres and Lot 45, 142 acres on the left between McMullen Road and Thewlis Road. After the war all the land was then in the ownership of the father Francis Wellington Were.
Clive was killed in action on 25th April 1915 in Gallipoli (which at that time was a part of the Ottoman Empire).
Berwick Shire News – 23rd June 1915
Clive Were, of Officer, who has fallen at the front, was well known throughout the district, and the news of his death was received with regret by many friends. He was a member of the Pakenham cricket team and a splendid type of an athlete.
Berwick Shire News – 30th June 1915
OFFICER – An impressive memorial service for the late Private Clive Were, who was killed in action at the Dardanelles, was conducted at Officer on Sunday afternoon last by Canon Hart. There was a large attendance, bearing evidence of the high esteem in which the young soldier was held.
Berwick Shire News – 7th July 1915
At the memorial service for Clive Were, held on the 27th, collection was made for wounded Australians. A branch of the Red Cross Society has been formed here with a good membership.
Pakenham Gazette – 10th August 1915
Mr John Mason: has taken a lease of Mr Were's farm where he intends carrying on dairying.
Clive posthumously received the Star Medal 1914/1915 on the 16th April 1920, the British War Medal on the 8th April 1921 and the Victory Medal on the 28th August 1922. All Medals were accepted by Clive's father.
Clive is listed on the Lone Pine Memorial in the Gallipoli Peninsula in Canakkale Province, Turkey.