Service Number: 4056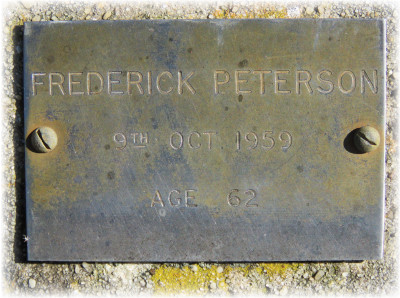 Rank: Private
Roll Title: 12 Infantry Battalion- 9 to 12 Reinforcements
Date of Embarkation: 24th November 1915
Place of Embarkation: Melbourne
Ship Embarked on: RMS Orontes
Age: 18 years
Born: 16th April 1897, South Melbourne, Victoria.
Father: Oscar Frederick Peterson
Mother: Elizabeth (Sutar) 53 Stanley Street, West Melbourne, Victoria.
Religion: Church of England
Occupation: Driver
Residence: N/A
Joined AIF: 15th March 1915
Height: 5 feet, 41/8 inches
Complexion: Dark, Eyes-Brown, Hair-Dark Brown
Frederick was wounded in action on the 24th July 1916 and again on the 19th August 1916.
He returned to Australia on the 23rd November 1918 and was discharged on the 24th May 1919.
On the 19 June 1923, Frederick recieved the Star Medal 1914/1915, the British War Medal and the Victory Medal.
In 1933 Frederick was living in Camperdown. He applied for his medals to be replaced on the 19th August 1936.
Frederick married Christine Tharle Schular in 1944, they did not have any children and they lived in Newport Victoria.
The Age – 10th October 1953
Told to repay 800 pound pension.
Frederick Victor Peterson, 58 years, railway watchman of Prentice Street Newport, was fined 3 pound at South Melbourne court yesterday on each of 10 charges of obtaining a service pensions by means of false written statements to the Repatriation department.
Mr Molony SM also ordered defendant to make restitution to the Repatriation department of 810 pound 17/6, which has been paid to him in the form of pension payments during the years from 1942 to 1951.
Peterson was told he could make restitution at the rate of 3 pound per week after he had paid off the 30 pound fines.
The prosecution had alleged Peterson in written statements to the repatriation department, had falsely stated that he had no income apart from the pension.
Defendant had actually been employed by the State railways during those years and had earned as much as 10 pound weekly.
Frederick died on the 9th October 1959 at 6 Prentice Street, Newport Victoria. He was cremated on the 12th October 1959 at Springvale Botanical Cemetery.