Service number 3869
ORIGINAL NAME PLATE C.1929
On the 4thOctober 1917 Hugh was wounded in action in Ypres, France; he received a shrapnel wound to the lower left arm and a severe gunshot wound to the head. Returned to Australia on the 30thJanuary 1918. Discharged on the 1stMay 1918.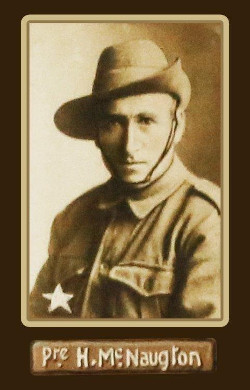 On the 6thMay 1918 Hugh was admitted to the Caulfield Military Hospital.
Dandenong Advertiser and Cranbourne, Berwick and Oakleigh Advocate  (30th May 1918)
"Sad end of returned soldier Mr Hugh McNaughton, of Beaconsfield, who recently returned from the battlefields of France, and got a hearty welcome from the residents, has succumbed to an operation in Caulfield Hospital last Thursday. He had been wounded on the top of the head, and in the endeavour to cure the suffering that he at times experienced, it was decided to undergo the operation. Unfortunately he succumbed in the hospital immediately after. A large number of people from Upper and Lower Beaconsfield attended his interment in Berwick Cemetery on Friday. He was one of the first young men to offer his services for his country, and has gone through the cruel campaign, returning to die. Extreme sympathy is extended to his widow mother, his sister and brothers one of which William (familiarly known around here as Mick), is yet at the front, which shows the pluck and patriotism of the family."
Died on the 15th May 1918 at Caulfield, Victoria.
Buried on the 17th May 1918 at Berwick Cemetery, Victoria.
| | |
| --- | --- |
| Name |  McNAUGHTON, Hugh + |
| Service Number |  3869 |
| Rank |  Private |
| Roll |  8 Infantry Battalion 10-12 Reinforcements (September-November 1915) |
| Conflict |  First World War 1914-1918 |
| Embarked |  23rd November 1915 |
| City |  Adelaide |
| Ship |  HMAT Ceramic A40 |
| Age |  31 years |
| Birth Place |  1883, Longford, Victoria |
| Father |  Archibald Kirk McNaughton, Beaconsfield, Victoria |
| Mother |  Mary Teresa (McDonald) McNaughton |
| Religion |  Roman Catholic |
| Occupation |  Labourer |
| Residence |  Beaconsfield, Victoria |
| Enlisted |  14thJuly 1915 |
| Height |  5 feet, 9 inches |
| Complexion |  Fair; Eyes- Brown; Hair- Brown |