Service Number: 6612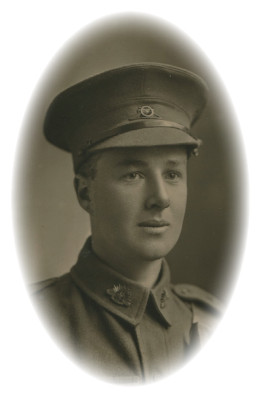 Rank: Gunner
Roll Title: 12th Battery, 4th Field Artillery Brigade
Date of Embarkation: 18th November 1915
Place of Embarkation: Melbourne
Ship Embarked on: HMAT Wiltshire
Age: 20 years
Born: 7th April 1895, Berwick, Victoria.
Father: James Lecky, Officer, Victoria.
Mother: Maggie (Duff)
Religion: Presbyterian
Occupation: Farmer
Residence: Officer, Victoria.
Joined AIF: 15th June 1915
Height: 5 feet, 51/2 inches
Complexion: Fresh, Eyes-Blue, Hair-Brown
Pakenham Gazette and Berwick Shire News – 10th August 1917
Officer.
Mr Lecky has received word from both his sons-Drivers JA Lecky and Gunner Mervyn Lecky that they are well. When the war broke out Mr Lecky's two sons were among the first to enlist.
William was killed in action while serving in France on the 1st September 1918.
Dandenong Advertiser and Cranbourne, Berwick and Oakleigh Advocate- 19th September 1918
Killed in Action.
It is with deep regret we have to announce that Gunner William Mervyn Lecky was killed in action in France on the 1st September, two years and ten months of active service. He was the younger son of Mr and Mrs James Lecky, "Cardinia Park" and was only 23 years of age when he paid the supreme sacrifice. His elder brother, Driver James Lecky, enlisted at the same time as his brother, and is still bravely serving his country, and it is our heartfelt wish that he may be spared to return safe and sound to his parents when the world's war is over. Very deep and general sympathy is expressed for the sorrowing parents in their great affliction.
National Archives – 25th July 1919
Dear Sir (Mr James Lecky),
It is with feelings of admiration at the gallantry of a brave Australian soldier who nobly laid down his life in the service of our King and Country, that I am directed by the Honourable the Minister to forward to you. As next of kin of the late No 6612 gunner W M Lecky, the Military Medal which his majesty the King has been graciously pleased to award to that gallant soldier for conspicuous bravery and devotion to duty while serving with the Australian Imperial Expeditionary Force. The specific deed for which this distinction was bestowed is as follows:-
"At Herleville during the operations on the morning of the 23rd instant thie telephonist, together with three others, formed part of the F.C.Party.
During the day these men worked under great difficulty from the forward O.P. 
station to the relay post under heavy shell fire and due to an utter disregard for personal safety, succeeded in maintaining the line escept for short periods.
The F.C.Officer was thereby enabled to send back information of considerable tactical importance as regards the line held by our own infantry flash bearings of hostile batteries shelling our new positions, and enemy movement likely to develop into a counter attack.
Their conduct is deserving of special recognition"
I am also to ask you to accept his deep personal sympathy in the loss which, not only you, but the Australian Army has sustained by the death of Gunner Lecky whose magnificent conduct on the field of battle has helped earn for our Australian soldiers a fare which will endure as long as memory lasts.
I shall be obliged if you will let me know whether it comes safely to hand by signing and returning the attached receipt.
Yours Faithfully,
Major, Officer I/C Base Records
He posthumously received the Star Medal 1914/1915 on the 21st September 1920, the British War Medal on the 30th September 1921 and the Victory Medal on the 3rd February 1923. William Lecky is interred at the Peronne Communal Cemetery Extension in Peronne, Picardie, France.