Service Number: 72551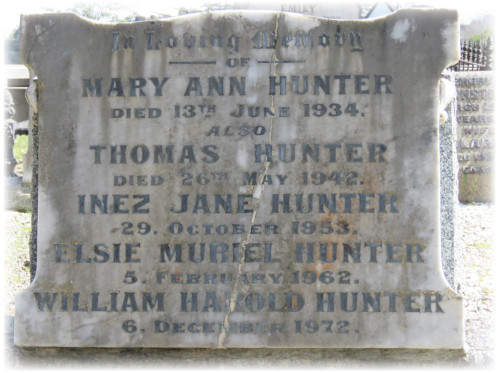 Rank: Private
Roll Title: N/A
Date of Embarkation: N/A
Place of Embarkation: N/A
Ship Embarked on: N/A
Age: 28 years
Born: 28th August 1889 Beaconsfield, Victoria.
Father: Thomas Hunter
Mother: Mary Ann (Funston)
Religion: Church of Christ
Occupation: Farmer
Residence: Clyde Post Office, Victoria.
Joined AIF: 28th May 1918
Height: 5 feet, 7 inches
Complexion: Fair, Eyes-Blue, Hair-Brown
William enlisted in Dandenong and was approved and appointed to the Recruit Depot Battalion at the Broadmeadows Camp. After 211 days of service, William was discharged on the 24 December 1918. He received no medals.
In 1933 William (Harold) married Elsie Muriel Mitchell in Ballarat, Victoria. they had two children Lois Mary and Valerie Irene.
He continued farming in Clyde and later in life moved to Dandenong.
Dandenong Journal – 17th February 1954
Clyde.
Well-known local residents, Mr and Mrs Harold Hunter and family, who are leaving the district, will be given a farewell evening in the Clyde North Hall on Friday evening, February 26th.
William died 6th December 1972 in Doncaster, Victoria and was buried on the 8th December 1972 in the Berwick Cemetery.