Service number 550
ORIGINAL NAME PLATE C.1929
Clarence returned to Australia on the 24th June 1917. Discharged in 1919. Clarence, his parents and siblings, immigrated to Australia in 1890.
In 1919 Clarence married Margaret Alice Newbold in Derby, England.
In 1936 Clarence lived in Woods Street, Beaconsfield and his occupation was carrier.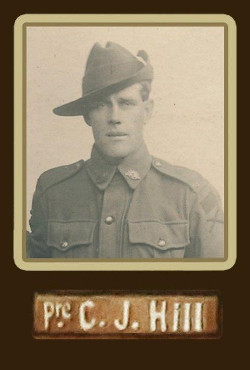 Died on the 10th June 1958 at Caulfield Convalescent Hospital, Kooyong Road, Caulfield, Victoria.
Buried on the 12th June 1958 at Springvale Botanical Cemetery.
Bendigo Advertiser (24th June 1917)
"Australian Imperial Forces.
326th Casualty List.
Wounded.
Clarence Juan Hill."
| | |
| --- | --- |
| Name |  HILL, Clarence Juan |
| Service Number |  550 |
| Rank |  Private |
| Roll |  4 Machine Gun Company 2-9 Reinforcements (April-December 1916) |
| Conflict |  First World War 1914-1918 |
| Embarked |  6thDecember 1916 |
| City |  Melbourne |
| Ship |  HMAT Orsova A67 |
| Age |  27 years |
| Birth Place |  6thFebruary 1888, Barrowash, Derbyshire, England |
| Father |  Edwin Hill, 142 High Street, St Kilda, Victoria |
| Mother |  Mary Hannah (Foden) Hill, 94 Dover Street, Richmond, Victoria |
| Religion |  Church of England |
| Occupation |  Farm Labourer |
| Residence |  Berwick, Victoria |
| Enlisted |  8th October 1916 |
| Height |  5 feet, 5 ¾ inches |
| Complexion |  Medium; Eyes- Blue; Hair- Brown |