Service number 5112
ORIGINAL NAME PLATE C.1929
On the 20thJune 1916 William received a severe gunshot wound to the eye. Returned to Australia on the 19thJune 1919. Discharged on the 28th September 1919.
South Bourke and Mornington Journal (18th September 1919)
"A Welcome home social was held in the local hall on Friday last. The building was tastefully decorated with flags, foliage and flowers, and presented a pleasing and bright appearance.
Cr WG a'Beckett JP, presided, and, was supported by Cr Stevenson.  A musical programme was provided, after which the returned soldiers were invited on the platform, each to receive a gold medal presented by the residents of the district. The guests were Sgt W Harbour, Dvr J Rix, Tpr F Bausch, Pts A May and S White. Each of them receiving an ovation as Cr a'Beckett presented the medals. Pte S White responded on behalf of the recipients. The following artists contributed to the success of the evening; Mrs F Richardson, Misses Thompson, G May, Wallace and Master Reid who rendered songs which were greatly enjoyed.  Misses Williams, Thompson, R May and Mr Meeking played the accompaniments. After the presentation, supper was served and dancing was indulged in until the sma' hours of the morning, which brought to a close a most enjoyable evening. The committee deserve great credit for the manner in which everything was carried out."
In 1919 William married Dora Vera Mahoney. They remained in Beaconsfield farming.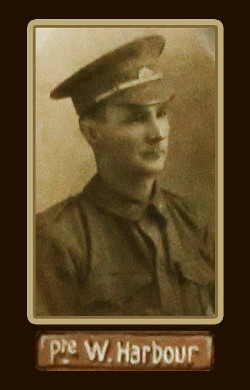 Died on the 23rdOctober 1963 at Melbourne Hospital, Victoria.
Buried on the 25thOctober 1963 at Berwick Cemetery, Victoria.
| | |
| --- | --- |
| Name |  HARBOUR, William |
| Service Number |  5112 |
| Rank |  Private |
| Roll |  5 Infantry Battalion 13-23 Reinforcements (December 1915-November 1916) |
| Conflict |  First World War 1914-1918 |
| Embarked |  1stApril 1916 |
| City |  Melbourne |
| Ship |  HMAT Suffolk A23 |
| Age |  33 years |
| Birth Place |  20thSeptember 1882, Berwick, Victoria |
| Father |  John Harbour, Beaconsfield, Victoria |
| Mother |  Sarah (Beecham) Harbour |
| Religion |  Church of England |
| Occupation |  Bootmaker |
| Residence |  81 Albion Street, East Brunswick, Victoria |
| Enlisted |  31stJanuary 1916 |
| Height |  5 feet, 7 inches |
| Complexion |  Brown; Eyes- Brown; Hair- Fair |