Service Number: 2571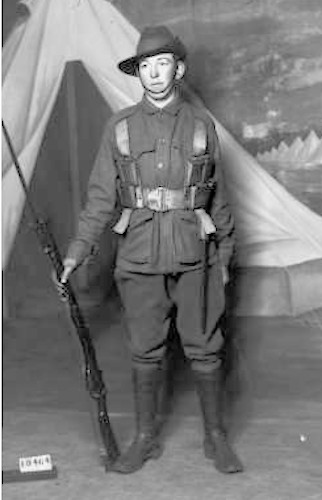 Rank: Private
Roll Title: 8 infantry Battalion- 7 to 9 Reinforcements
Date of Embarkation: 15th September 1915
Place of Embarkation: Melbourne
Ship Embarked on: SS Makarini
Age: 28 years
Born: 1897
Father: William Peter Drummond, Officer, Victoria.
Mother: Margaret Annie (Duncan)
Religion: Roman Catholic
Occupation: Blacksmith
Residence: Officer, Victoria.
Joined AIF: 28th June 1915
Height: 5 feet, 9 inches
Complexion: Fresh, Eyes-Brown, Hair-Brown
Walter returned to Australia on the 16th May 1919 and was discharged on the 22nd June 1919.
He became a police officer and married Ruby Lillian Dean in 1924. They lived in Northcote, Victoria.
Walter received the 1914/1915 Star Medal, the British War Medal and the Victory Medal.
He died on the 17th July 1962 and was buried on the 20th July 1962 at the Berwick Cemetery in Plot 3-555-B.