Service Number: 5995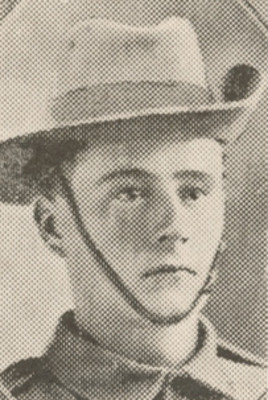 Rank: Private
Roll Title: 6 Infantry Battalion – 19 to 23 Reinforcements
Date of Embarkation: 28th July 1916
Place of Embarkation: Melbourne
Ship Embarked on: HMAT Themistocles A32
Age: 26 years
Born: 1888, Kensington Hill, Victoria.
Father: Robert Charles Clements, 170 Scotchmer Street, North Fitzroy, Victoria.
Mother: Julia Jane (Ansell)
Religion: Church of England
Occupation: State School Teacher
Residence: Officer, Victoria.
Joined AIF: 21st August 1915
Height: 5 feet, 8 inches
Complexion: Ruddy, Eyes-Brown, Hair-Dark Brown
Berwick Shire News – 8th September 1915
Officer.
Mr J H W Clements, the head teacher, who is a great favourite with the children, has enlisted and goes to camp on Monday. The children presented him with a handsome dressing case. Mr Crook made the presentation on behalf of the children and spoke of their regret on losing him. Mr Clements feelingly responded.
Mr Clements will be greatly missed in the district, having been connected with the Progress Association since its beginning. He was also Hon. Treasurer for the hall for the last 12 months.
John returned to Australia on the 25th September 1919 and was discharged from the AIF on 27th March 1920.
On 12th April 1922 he received the British War Medal and, later, on 16th March 1923 received the Victory Medal.
In 1927 John married Myrtle May Scale in West Melbourne, they had one daughter Mavis Enid.
John died at the Repatriation General Hospital Caulfield on the 5 July 1944. He was cremated on 6 July 1944 at the Fawkner Crematorium.
The Argus – 6th July 1944
Clements – On July 5 at Caulfield Military Hospital, John William Henry Clements, of Portarlington late of the 14th Battalion AIF, loved brother of Bruce, Harold and Bert, aged 56 years.