Service Number: 358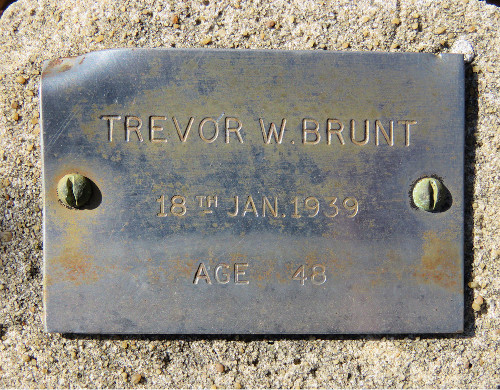 Rank: Driver
Roll Title: 1 Divisional Train (I to 4 Companies Army service Corps)
Date of Embarkation: 22nd October 1914
Place of Embarkation: Adelaide
Ship Embarked on: HMAT Hymettus A1
Age: 24 years
Born: 27th June 1890, Windsor, Victoria.
Father: William Brunt, Cranbourne, Victoria.
Mother: Sarah (Buckland), 50 Albert Road, Albert Park, Victoria.
Religion: Church of England
Occupation: Clerk
Residence: 50 Albert Road, Albert Park, Victoria.
Joined AIF: 20th August 1914
Height: 5 feet, 71/2 inches
Complexion: Dark, Eyes-Brown, Hair-Brown
Berwick Shire News and Pakenham and Cranbourne Gazette- 2nd September 1914
Trevor Brunt, who used to play with Berwick Football team is now with Expeditionary Force at Broadmeadows.
On the 12th May 1916 Trevor was promoted to 2nd Lieutenant.
He returned to Australia on 5th March 1919 and discharged on the 24thJune 1919.
On 25th April 1922, Trevor received the 1914/1915 Star Medal, the British War Medal and the Victory Medal.
Trevor died on 18th January 1939 and was cremated on 19th January at Springvale Cemetery.
The Argus – 21st January 1939
Brunt – On the 18 January at 56 Adelaide Street Malvern, Trevor William dearly loved husband of Millie L Brunt loving father of Bill, Roma and Ross. Peacefully sleeping.