Service Number: 20024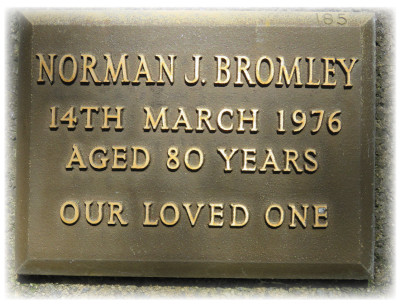 Rank: Farrier Sergeant
Roll Title: 8 Field Artillery Brigade / 3 Division Ammunition Company
Date of Embarkation: 20th May 1916
Place of Embarkation: Melbourne
Ship Embarked on: HMAT Medic A7
Age: 19 years
Born: 2nd February 1896, Fitzroy, Victoria.
Father: John Thomas Bromley, Officer, Victoria.
Mother: Susan Jane (Bell)
Religion: Church of England
Occupation: Farrier
Residence: Officer, Victoria.
Joined AIF: 28th June 1915
Height: 5 feet, 8 inches
Complexion: Fresh, Eyes-Blue, Hair-Light Brown
Norman married Florence Louisa Batchelor on 27th August 1919 at St Mary's Church on the Isle of Wight, England.
Norman returned to Australia on 18th December 1919 and was discharged on the 28th March 1920. On 24th November 1923, he received the British War Medal and the Victory Medal.
After discharge from the military Norman continued as a Blacksmith living in Oakleigh Victoria.
Norman and Florence had two children, Joyce Evelyn and Olive Jean.
Norman died on 14th March 1976 at 20 Bent Street South Caulfield Victoria. He was cremated and interred at Springvale Botanical Cemetery on 16th March 1976.