Phone 8768 4400
Our term program can be found on our website and has something for everyone: www.bncinc.org.au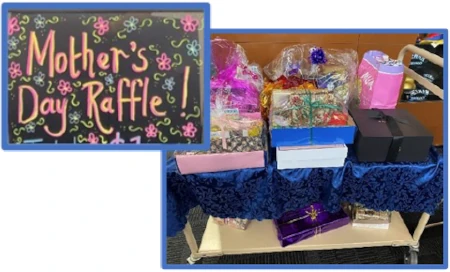 This year we were so pleased to have enough prize donations to make up fourteen beautiful hampers for our Mother's Day raffle! We are so appreciative of our community's support whenever we fundraise – both buying tickets and donating prizes. Our very talented "Sewing Sisters" Carol, Laurel and Pam generously donated this amazing quilt to boost our Centre fundraising efforts and we were thrilled with the $160 winning auction bid and the winner thrilled with her new quilt.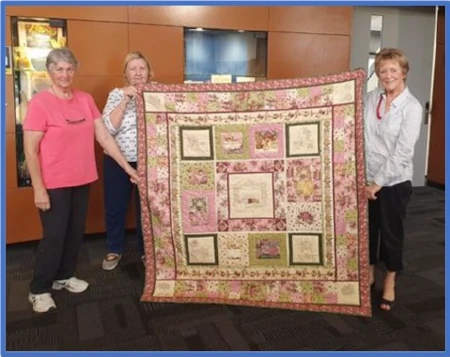 Community Food Pantry
Although we are very proud to help our community with our free Community Pantry, we have been concerned by the increased utilisation of the assistance in recent months. It appears that there are more people facing food uncertainty than ever and pantry staples are flying off the shelves. Although we are currently filling the pantry from grant funding we gratefully received last year from the Cardinia Park Hotel, the money will run out, and we are concerned about keeping up with the demand for this service.
How You Can Help:
We are promoting a Food Drive during June where we ask for non-perishable donations that can be added to the pantry. If you don't have time to buy a few items, we welcome cash donations of which 100% is used to purchase more stock. Please give whatever you can to assist those who aren't doing so well.
Donate at reception or directly onto the pantry shelves and please ensure items are not past their use by/best before dates. Suggested items include canned goods (soups, vegetables, fruits), pasta, rice, cereals, long life milk, tea, coffee, biscuits, flour, sugar, crackers, fruit cups, juice, basic toiletries, etc.
Our amazing knitters recently donated another huge pile of blankets to the Food Pantry to be distributed to those individuals and families facing rather bleak conditions this Winter. The work in each blanket is to be marvelled at and we hope that they bring some joy and comfort to the recipients. The Knitting Group meet each Monday 1pm-3pm at the Centre and new knitters are always welcome. They also appreciate donations of wool, and these will be gratefully received at our Reception.
If you have not already claimed your next $250 Power Saving Bonus or are having difficulties doing it online yourself, we can assist you here at the Centre. Make an appointment, bring in your latest Electricity bill and bank details to claim this assistance.
What else is happening…
Term 2 has been bustling at the Centre, even as the cooler weather sets in. We're amazed at how quickly time is speeding past and how busy it is, but we continue to add activities and classes to meet our community's interests and needs.
We were sad to hear that Beaconsfield Probus Club recently closed when they were unable to form a Committee of Management. As many members are still interested in the meeting element of the group, we have started up a new Retirees Group which will be held in the same format as the monthly Probus meetings. We hope that removing the responsibilities of managing Probus will encourage the continued participation of the stalwarts and welcome newcomers to this important social connection. We have also started a Social Card Group to continue the gathering of the Probus Cards Group. It is $4 per session for Centre members to attend either of these sessions.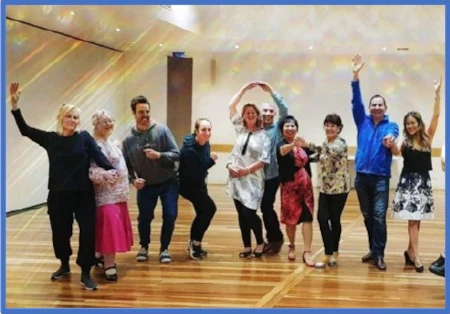 Our New Vogue, Ballroom and Latin Dancing class has a few places available, and you can dance your blues away in this fun and social group. Currently running on Tuesdays from 7.00pm, come and join in!
To keep the kids active, our wonderful Children's Dance teacher, Miss Erin, is bringing a new, more challenging Acro class to the Centre. Teaching skills in tumbling, flexibility, coordination, balance and strength, we are excited that this class has the interested numbers to go ahead. Running on Thursdays from 4.00pm, secure a spot for your child today!
BNC Children's Room
There are limited places still available in our Occasional Care sessions. Monday afternoon sessions are 12.30pm-4.30pm and the cost per week is only $44. If you claim Child Care Subsidy (CCS), you only pay the gap and fees can be reduced to as little as only 10% out of pocket depending on your family circumstances. The sessions provide children with interesting and creative themes across all areas of development in a small, inclusive and nurturing environment. We meet all kinds of friends!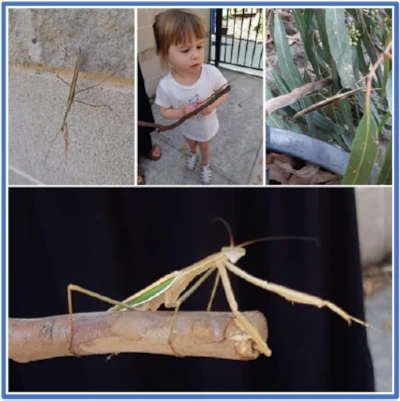 Our longer 8-hour Occasional Care sessions on Wednesdays, Thursdays and Fridays are another great opportunity for flexible, low-priced childcare. Sessions are family grouped, meaning siblings stay together. Our qualified, experienced staff are skilled with strategies for separation anxiety and providing a wide range of activities. Sessions are only $88 each and CCS is also applicable on fees for these groups.
Contact us for more information and to check for availability in your preferred session.
Hard copies of our term program are always available at Reception and the digital version is available on our website as soon as it is ready. If you would like every edition emailed, please let us know by dropping a line to: program@bncinc.org.au.
Add us on Facebook and Instagram for the latest updates. We welcome your enquiries.
Stay connected!
Beaconsfield Neighbourhood Centre
8 O'Neil Road, Beaconsfield
Phone: 8768 4400
Web: www.bncinc.org.au