The McNaughton family came to live in Beaconsfield prior to World War 1.
Archibald and Mary together with the majority of their adult children settled into life here in Beaconsfield becoming valued members of the community.
When World War 1 was declared, William Charles McNaughton was the first and youngest son to enlist for military service on 27 January 1915, his features were described as brown eyes and hair with a fresh complexion. He initially joined the 22 Infantry Battalion as a driver and after training at Broadmeadows proceeded to Egypt on 10 May 1915.
William was mostly called Mick by his family and friends. Prior to his departure he was given a Valedictory Social Farewell at the original Beaconsfield Hall and presented with a wristlet watch, silver cigarette case and wallet.
Later that year Mick returned briefly to Australia as a guard on one of the ships carrying sick and wounded men. When he departed, his older brother Hugh joined him on the journey to fight in France.
Hughie had enlisted with the AIF on 14 July 1915 and had been in training until his departure. Together Mick and Hughie travelled the lengthy sea voyage from Australia to Europe. The next two years were long and harsh as the war dragged on. On 14 October 1917 Hughie was severely injured, a gunshot wound to his head and shrapnel in his lower left arm. He was treated at Queen Marys Military Hospital, Whalley, Lancashire, England before returning home to Australia aboard the hospital ship "Euripedes", which arrived in Melbourne on 21 March 1918.
While Hughie was convalescing with his family, he was given a welcome home party and presented with an inscribed gold medal from the residents of Beaconsfield.
Unfortunately, Hughie's health deteriorated and he was admitted to the Caulfield Military Hospital to undergo an operation to relieve the suffering from his head injury. Sadly, the procedure was unsuccessful and Hughie died on 15 May.
In late 1917 Mick had suffered a bout of scabies and was unwell for several months, he eventually returned to military duty and when the war ended he returned home to Australia being discharged on 25 July 1919.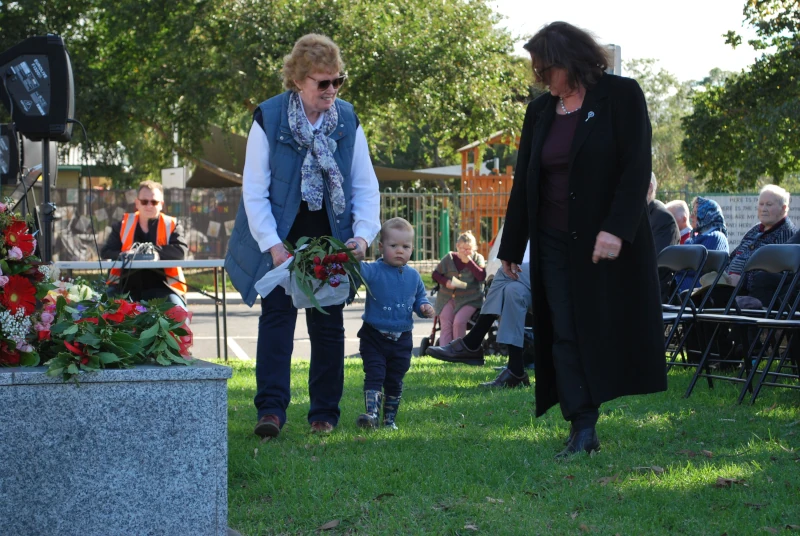 In March of 1920 Beaconsfield Fallen Soldiers Memorial was unveiled in the presence of 200 residents of the town and district. Hughie McNaughton is included on the memorial, we can only imagine how the McNaughton family felt as they stood here that day.
In November of 1920 Mick married Elizabeth Fanny Yeoman and they lived in Beaconsfield until Mick's employment as a road worker meant moving to Port Welshpool. They had four children.
Such was his enduring love and memory for his brother, Mick named his first-born son, Hugh.
Mick worked hard to support his young family. In September 1944 he contracted pneumonia and died at the relatively young age of 53 years.
The bond of brotherhood is a powerful connection, a lifetime bond.
A brother is a friend given by nature.
Hughie and Mick shared an extraordinary bond as brothers, a powerful connection that never waned.
Together they are remembered, Lest We Forget.
Researched and Written by Penny Harris Jennings