Welcome to this Winter Edition of the Beaconsfield Banner. The Banner is available on our website www.beaconsfield.org.au and printed copies are available from a number of local businesses including the Beaconsfield Post Office.
Beaconsfield Anzac Memorial Service
Our Association recently held the Beaconsfield Anzac Memorial Service. Fortunately most Covid-19 restrictions had been lifted enabling the Service to proceed. A crowd of approximately 150 people attended at the Cenotaph to pay their respects to the service men and women. Prior to the service, there was a march from the Fire Station along Woods Street. The Memorial Address featured James Albert Witham a World War 1 Serviceman. Thanks to everyone who participated in the service and those attending, especially returned servicemen and relatives of servicemen and servicewomen. Thanks to Cardinia Shire Council for a grant to cover the traffic management and other costs of the event.
Open Air Fires Local Law 20
Cardinia Shire Council's proposed Open Air Fires Local Law 20 due to apply from 1 February, 2022 was tabled for discussion at the February Shire Council Meeting. There were a number of changes to the existing policy. In particular, a new Urban and Township Zone was included which only allows burn-offs at the discretion of Council after permits are applied for each burn-off. This will affect many properties in Beaconsfield previously allowed to have burn-offs subject to certain conditions but without needing permits. Many submissions were received from throughout the Shire and consideration of the matter was deferred until the Council Meeting held on 21 March. At that meeting, it was proposed that properties north of Holm Park Road (nos. 41-123) be rezoned as Bushland and Peri-Urban, therefore being able to burn-off without a permit four specific days of the week and with a permit on the other three days. There will be further consultation with property owners before Councillors make a final decision in the next few months.
Beaconsfield Avenue of Honour Nameplates
Recently, Cr Brett Owen, historian Penny Harris Jennings and two BPA members attended City of Casey to inspect the  original Beaconsfield Avenue of Honour nameplates. The historic nameplates are in good condition and have never been displayed since being made in the late 1920's. Our Association and the Berwick Pakenham Historical Society will be applying for a State/Federal Grant to restore and display them. Cardinia Shire Council is very supportive of the project.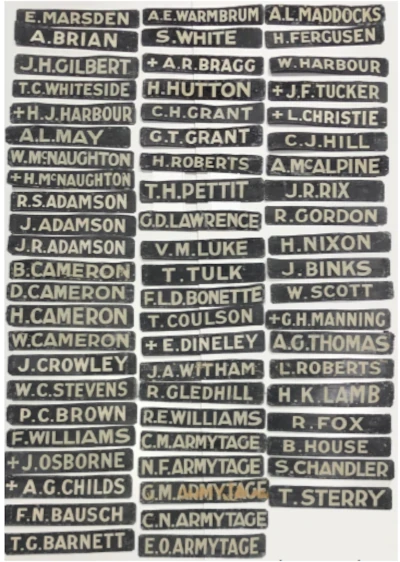 Community Power Hubs
I attended a meeting arranged by Upper Beaconsfield Association to consider community power saving initiatives, renewal energy and planning for a more environmentally friendly future. Community Power Hubs are being established across Victoria to assist communities to facilitate and implement renewable energy projects.
If you are interested in solar, home energy efficiency, microgrids and being part of a local Power Hub, please email secretary@beaconsfield.com.au so initial interest in Beaconsfield can be assessed.
Beaconsfield Banner and Meetings
The Beaconsfield Banner is produced by Beaconsfield Progress Association volunteers with the only direct cost being the printing done externally plus a share of administrative costs. These costs are covered by advertisements in the Beaconsfield Banner and also a grant from Cardinia Shire Council. If you would like to advertise in the Beaconsfield Banner or write some articles, please email banner@beaconsfield.org.au
Due to Covid restrictions, we have been holding meetings using Zoom however, we propose to recommence having our monthly meetings at the Beaconsfield Community Centre soon. We encourage members of the community to become involved and provide their views on issues affecting Beaconsfield.
Graeme Taylor
President
Beaconsfield Progress Assoc. Inc.