It's been another busy term at the club over the Easter school break. Beaconsfield Tennis Club ran a very successful junior tournament, with spectators enjoying outstanding tennis by the 31 competitors. A grade was won by BTC local, Luke Sankey, who defeated fellow BTC club member Noah Dorling in the final. We also got to say a last goodbye and thank you to our previous coach, Paul (Rowy) Rowbottom, who paid a visit during the tournament.
Term 2 coaching programs started on April 26th with professional tennis lessons held 7 days a week. New adult group coaching programs are now also offered on a Friday morning. Weekend competition also started on April 30th & May 1st with 12 junior teams entered in the BDTA & WDTA and senior teams entered in the WDTA. Good luck to everyone in a successful and enjoyable season.
Tennis 4 Teens
Tennis 4 Teens is a non-competitive, stress-free, fun, social program that offers participants activities both on and off court. Tennis 4 Teens is a program designed by teens, for teens and has the following values at its core
Youth have a "say" in the activities conducted in a session
Social element pre and/or post on court play
Flexible i.e. drop in/out/Pay As You Go
1 – 1/2 hours per session (including all social activities)
Active Facilitator
Use of an online platform through Tennis 4 Teens website to sign up to sessions
This program has been made possible as a result of funding we received from Tennis Victoria and  VicHealth. They have developed a program that encourages youth aged between 12-17 years to be active in a non-competitive/social environment.
Website to register: https://play.tennis.com.au/beaconsfieldtennisclub/BookClass/b78dfc00-6829-4cba-a430-ee582f845ef1
Address: Perc Allison Reserve
Beaconsfield Emerald Road, Beaconsfield
When: Every Sunday from May 22nd –26th June
Times: 2-4pm
Ages: 12-17 years old
Price: $5 per session
Junior Competition Tennis
Another successful end to the Summer/Autumn session with three Junior Premiers and one runner up team.
Congratulations to the following teams:
Rob Osbourne Trophy Premiers: Luke, Noah and Matthew
Rubber 4 Premiers: Finn, Will and Gabby
Section 6 Premiers: Lucas, Lachie, Kai, Viran and Aarudran
Section 9 Runners Up:  Aymerik, Bella, Maddy, Audrey and Tom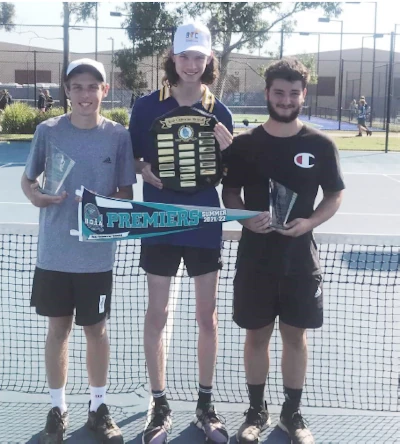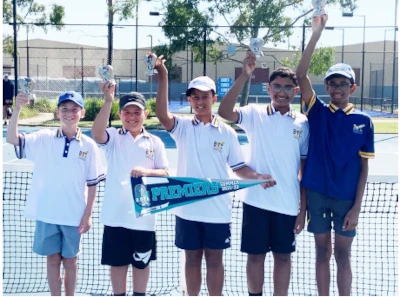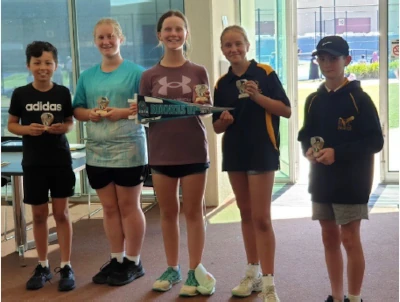 Mid-week Social Tennis
Beaconsfield Tennis Club has two winter mid-week social competitions that are available for both members and non-members. Beaconsfield/Officer Wednesday Social Tennis operates on Wednesday nights from 7.30pm and Men's Social Tennis runs on Thursday nights from 7.30pm. All of these competitions welcome new players. Just head down to the courts and talk to our committee on the night or visit the www.BeaconsfieldTennisClubInc.com website for more information.
Mother's Day Raffle
Congratulations to the winners of the Mother's Day raffle:
1st prize – Raelene Nowell
2nd prize – Rosie B
3rd prize – Jenny Ponter
A big thankyou to Pakenham Racing Club, Berwick Chocolates, BWS and Ducky in the Field for supplying all the goodies for our lovely mums.
Annual Membership Fees
NEW SOCIAL CLUB MEMBERSHIP AVAILABLE
 Membership Year
The financial membership year runs from 1st September to 31st August. Pro-rata fees are available to new members only. Go to www.beaconsfieldtennisinc.com to obtain a membership form and payment details.
Adult – Competition Play $160
Adult – Social Play $120
Youth – Competition Play $140
Youth – Social Play $100
Junior – Competition Play $120
Junior – Social Play $60
Family – Competition Play $300
Family – Social Play $250
Casual Court Hire
$10 per court (per hour)
Court hire is available at the Beacy Flake Fish & Chips shop located at Beaconsfield Shopping Plaza, Shop 2, 55 Old Princes Highway, Beaconsfield. A court key will be issued when a deposit of $20 is paid and will be refunded on return of the key on the same day. The synthetic grass courts are available for hire only when not in use. Competitions and coaching take precedence.
Main Contact Details:
All General Queries Ph: (03) 88205853
Secretary Ph: 0437 759 793 Email: mauricepotter@bigpond.com
Facebook: Beaconsfield Tennis Club Community
Mail: P.O. Box 132,  Beaconsfield,  VICTORIA, 3807
Website: https://beaconsfieldtennisclubinc.com/
Coach: Ossie's Tennis Coaching Ph: 0413594633    Email: ossie30@bigpondnet.au