The Beaconsfield Football Club is relishing the intense competition our club is experiencing in our debut season in the Eastern Football League 1st Division.
New clubs and new grounds as well as fielding a youthful Senior team has presented challenges each week but we are building for long term success. Player numbers have been good for our Reserves & U/19 teams as well and all sides are vying for top five spots with a long season ahead. It is just great to have a regular schedule as players & supporters enjoy catching up after the past two Covid affected seasons.
An early season highlight was our 2001 Senior team finally getting together for their delayed 20 year reunion which took place at our first home game. A great turn-out of those players and officials with some of them certainly looking fit enough to still don the Eagles jumper if needed. We captured the turn out thanks to the support of the Pakenham Gazette.
It's also been great to have a couple of our long time Life Members in Ian Taylor & Noel Manning back regularly at matches, and providing a helping hand to Geoff & Charlie.
Our Annual Ladies Day luncheon was held on 21st May and once again provided much needed funds to Breast Cancer Network Australia, while also proving to be a great day for many to catch up and enjoy a day out in style at the footy. All of our teams also wore pink socks as a BCNA fundraiser as part of the Mother's Day matches.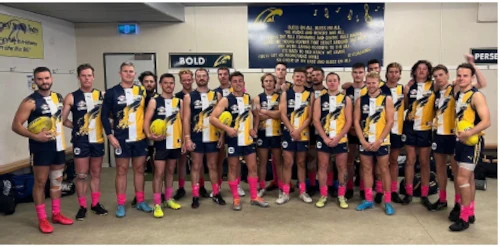 The club's home matches at Holm Park for the remainder of the season are as follows:
Sat. 25th June vs. Mooroolbark;
Sat. 9th July vs. East Ringwood;
Sat. 23rd July vs. Croydon;
Sat. 13th Aug vs. Lilydale
(Past Players & Officials Annual Luncheon)
Finally, we have been most appreciative of the wonderful sponsorship support from so many local businesses and there is still an opportunity for you to be involved. For more information please contact our Sponsorship Manager Scott Hilton on 0455 963 179.
For all club information follow our Facebook page: @beaconsfieldfootballclub
Go Beacy.
You can find us at:
Website: www.beaconsfieldfc.com
Facebook: @beaconsfieldfootballclub
Email: secretary@beaconsfieldfc.com