The footy season is well underway for Beaconsfield across our Senior & Junior clubs as we now remember all the work involved in fielding 25 + teams across all ages from adults to U/8's and a big thanks to all our volunteers at all levels.
At Senior club level our club has started very well with large home crowds against long-time rivals Narre and Cranbourne and Beacy currently sitting on top of the ladder.  Our U/19's have also been ominous with a very talented group well led by coach Darren Hamilton looking to continue to provide future great senior players. Our Women's team under coach and club president Troy Robinson are a very tight knit group who look to be in for an excellent season in the top division in the Outer East comp.
The Juniors committee are again working hard with extra girls' teams this season adding to their team numbers. Undoubtedly the promotion of AFLW has driven the interest in girls' footy at local level and the continued success of the Beacy Youth girls' team and the drafting of our locals into the elite competition is fuelling that. Congratulations to one of those Beaconsfield graduates in Tyla Hanks on winning the prestigious AFLW Rising Star award and well done to the coaches involved, Mattie Gee and Troy, on their development and encouragement of the players coming through these ranks.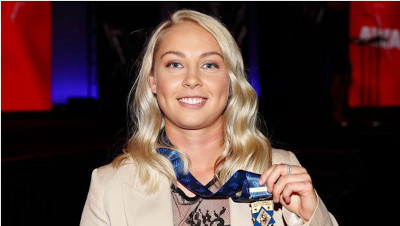 Any local business wanting to be involved in one of our biggest local community activities through sponsorship or awards can contact our Sponsorship team Scott Hilton 0455  963 179 or Geoff McGowan 0410 446 988.
A highlight of the year will be on Sat 10th July at Holm Park when we will hold a Black and Yellow celebration of our 1980/81 Premierships. This is an opportunity to welcome players, officials & supporters from this great era, along with all those who have been a part of our club's history. We will play our oldest rivals in Cranbourne on this day 131 years after our first meeting.
We are also keen to hear from locals whose family members played in the early days of our club as we look to build a full picture of our history. If you have any articles, photos or stories from the early days ie: 1900's to 1950's, please contact Lawrie Canning on 0437 285 795 or Lawrie.canning@optusnet.com.au.
We would also encourage you to have a look at our trophy cabinet when next visiting Holm Park as we have had some fabulous items donated dating back to the 1920's.
Home games schedule over coming months –
5th June –    vs Pakenham
26th June – vs Upwey Tecoma (Sponsors Luncheon)
10th July –   vs Cranbourne (Black & Yellow match for 1980/81 reunion)
17th July –   vs Doveton
7th Aug   –  vs Wandin
21st Aug –   vs Woori Yallock (2001 Reunion)
Keep up with all the club news at our Beaconsfield Football Club Facebook page.