In 1910 Edmund Luke purchased the property that is now known as "Montuna" Golf Club and Driving Range at Beaconsfield/ Guys Hill. The Luke family settled into country life on the farm, building a home and establishing a large garden.
Mr Luke was the well accomplished photographic artist of "The Age" and "The Leader" newspaper.
In 1914 Britain declared war, Beaconsfield was a small country town with a population of 450, it was predominantly a farming, fruit growing and agricultural district. But as all small communities the powerful drive to serve "king and Country" was met with great enthusiasm, this included the Luke family.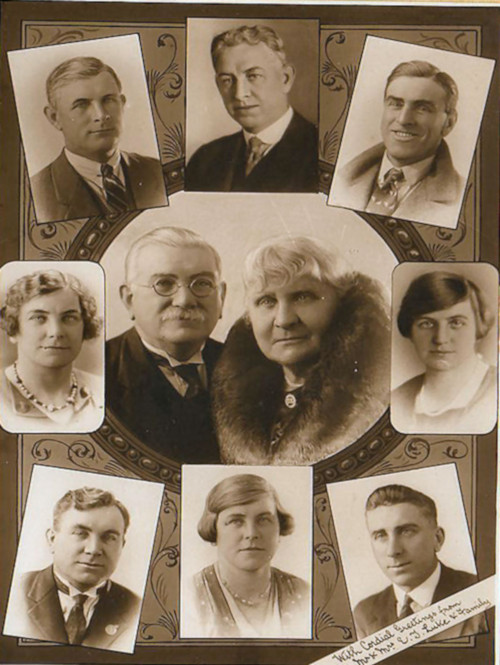 By June 1915 many of the local young men had enlisted. The recruitment meeting held at the local hall on 19 July 1915 was "A most enthusiastic recruiting meeting" with "a large attendance and great interest was taken in the proceedings".  In recognition of the admiration residents felt, the recruits were given seats on the platform and "honoured with three healthy cheers".
Mr Luke's own son Victor Mason Luke enlisted on 30 June 1915.
Various groups were formed to support the soldiers such as the Soldier's Farewell Committee.  Members would keenly instigate fundraising occasions to generate funds, predominantly to give soldiers a gift on their departure such as a wristlet watch or binoculars.
In October 1915 the committee agreed for Edmund Luke to photograph each soldier and produce an Honour Board. Individual "flashlight" photos were taken of the recruits in uniform to form the Honour Board. The finished board had a grand unveiling in the local hall and was considered "a beautiful piece of work".
Originally there were 23 servicemen within the frame and later another 10 servicemen were added to the lower end of the frame.
There were nine soldiers who made the supreme sacrifice and this is indicated by the star on their photograph.
The Honour Board was proudly displayed in the Beaconsfield Public Hall until the hall was demolished in 1970 to allow for the widening of the Princes Highway, the main road to Gippsland.
The Honour Board was relocated to the Beaconsfield Upper RSL for safekeeping while Beaconsfield awaited a new community centre to display the board.
In 1999, a replica Honour Board was produced to display in the original Beaconsfield Community Centre. When the new Beaconsfield Community Centre was completed in 2004 the original Honour Board was returned to Beaconsfield and the replica is now at the Beaconsfield Upper RSL. The Beaconsfield Honour Board is now displayed in a purpose-built display case at the centre.
Researched, compiled and written by Penny Harris Jennings 2019.
Sources:
National Library of Australia.
Australian War Memorial.