Phone 8768 4400
Christmas is suddenly around the corner and even though the shops have been tinselled since October, it still feels like it came upon us very quickly.
Our big fundraiser of the year, the Christmas Raffle, is back with some lovely hampers to be won.  We encourage the donation of prizes from our community as well as entries to ensure a successful raffle.  Your chance to win is only $1 per ticket at Reception or bank transfers are welcome if you can't attend the Centre.  Just get in touch to let us know how many tickets you would like.
If you haven't already claimed the one-off payment of $250 that is offered to ease cost-of-living pressures and encourage Victorians to compare their household energy prices and save money, you have until July 2023. You will need to have a recent residential electricity bill and be the account holder for that bill.
We're finishing off the year with a Christmas Floral workshop.  From 12.30pm on Friday 9th of December, it's just $45 for all materials to make your own Christmas Floral arrangement.  Add a $2.50 workshop membership if you are not already a member at the Centre and bring your own scissors or secateurs.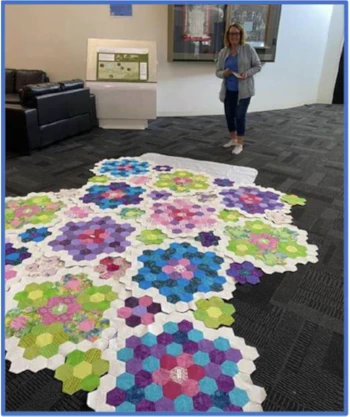 Our talented members continue to astonish us with their work.  We were thoroughly awed by this amazing Patchwork quilt and striking painting. Do you see yourself in these pictures?  Contact us to join in!
In other news, we are so very, very proud of our own Children's Dance Teacher, Miss Erin, who represented Australia in the recent IPL World Championships up on the Gold Coast.
Erin (pictured below middle) took home the gold medal and became the new International Powerlifting League World Champion for the U67.5kg weight category.  Squatting with a massive 180kg, benching 70kg and deadlifting a huge 175kg- this woman is amazing!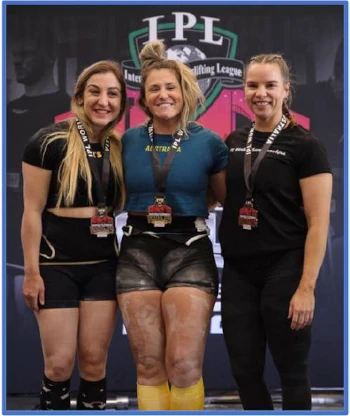 Our AGM was held in October, and we're pleased to welcome back returning members and introduce some new faces on our Committee of Management for 2022/2023:
President: Noel Wyett
Vice President: Tania Baxter
Secretary: Katharine O'Carroll
Treasurer: Sharyn Cronin
General Members: Valerie Boumann, Alyssa Jones, Gwen Neve, Miryam Prasetyo, Monica Spiteri, Shoheli Sunjida and Maria Tucci.
We are so grateful that these wonderful volunteers have put their hands up to govern the Centre and ensure we continue to meet our community's needs.  We also farewell those members who have served their time and step down with our many thanks.
BNC Children's Room
When there was a break in the rain, the kids had fun with a matching game, exploring the garden to find where the mystery photos were taken.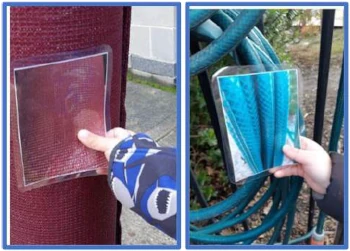 Our 2023 Children's Room timetable seems to be just what local families want with our longer 8-hour sessions of Occasional Care on Wednesdays, Thursdays and Fridays almost full.  Some availability remains for the Monday afternoon four hour session.  Get in touch to discuss the available options for your needs.  We can put you on the waiting list for a permanent place if there is no immediate availability or you may prefer to be on our contact list for casual or emergency care.
A reminder that our Children's Room is available to hire on weekends for children's parties.  At just $40 per hour, it can provide a great space to make your own and hold your special event. Contact the office for more details on 8768 4400.
Our Term 4 programs are in full swing until we close on December 16, but newcomers are welcome at any time.  Keep an eye out for our 2023 Term 1 Program: www.bncinc.org.au
Hard copies of our term program are always available at Reception and the digital version is available on our website as soon as it is ready.  If you would like every edition emailed, please let us know by dropping a line to: program@bncinc.org.au.
Add us on Facebook and Instagram for the latest updates. We welcome your enquiries and feedback.
Stay connected!
Beaconsfield Neighbourhood Centre
8 O'Neil Road, Beaconsfield
Phone: 8768 4400
Web: www.bncinc.org.au