Established 1986
"Because everyone deserves the gift of music"
CELEBRATING COMMUNITY HARMONY THROUGH MUSIC
MYC: The Music of Spring
MYC's Spring was packed with opportunities to see how much the choristers have grown in their self-confidence, friendships and singing over the course of the year.
In September MYC took the stage with Opera Australia in two performances of Barber of Seville. Participating in this hilarious show was super special  for the choristers.
MYC has loved and appreciated being part of the Beaconsfield Community, and with very mixed feelings we moved into Hampton Park Secondary College in Term 4. Huge thanks to Beaconsfield Neighbourhood Centre for hosting us for the last couple of years. We're both sorry to leave and enjoying the partnership with HPSC and engaging with a new community.
To celebrate Children's Week, supported by Department of Education, MYC invited children for hour-long workshops for three different age-groups, followed by a performance. It's impressive and rewarding that so much can be learnt/produced in an hour.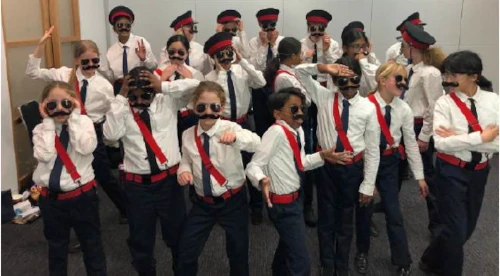 The Flying Free Therapy Choir Pilot Program, a VicHealth: Reimagining Health project has been highly successful and will continue on through 2023. Participants enjoy the classes and are improving social and communication skills through music, ably lead by Fiona Moseley, a speech pathologist and past MYC chorister. We're hugely excited to offer this program for children with learning difficulties/intellectual disabilities.
MYC celebrated the year with a workshops-and-concert event at the Rivergum Performing Arts Centre in Hampton Park. The concert featured performances by each of the workshop groups, showcased all MYC's choirs and featured guest artists Thursday's Child. It was a FUN night! Although we've moved out of Beaconsfield, please do look out for advertising of MYC's events and come along to share the gift of music.
Thanks Beaconsfield – all the best for the holidays and for the future!