Beaconsfield residents have long enjoyed the festive season.
In the lead up to Christmas day in 1969 many families were celebrating achievements accomplished throughout the year.
The 1st Beaconsfield Scouting group were celebrating the presentation of the Queens Scout badge to Beaconsfield Rover Squire, Alan Johnston.  Alan received the first ever such award for the 1st Beaconsfield Group, the BBQ celebration was well attended by dignitaries and guests.
Linda Tudden, a student at the Beaconsfield State School received the "Citizen Award" for her work in assisting the senior citizens walkathon and the Egg Appeal.
Marjorie Watson of Station Street, Officer passed her exams to become a registered nursing aide at the Eye and Ear Hospital in Melbourne.
The Beaconsfield Fire Brigade received from the Country Fire Authority a new 4 x 4 truck, which was much appreciated for the potential firefighting season.
Businesses published their gratitude in the local newspapers to those residents that frequented their establishment.
Messages included "Greetings for Christmas 1969, with best wishes for your health, happiness and prosperity throughout the coming year." Advertisements for gifts and Christmas fare, were prominent in the newspapers encouraging readers to prepare and purchase for the festive season celebration. Many gifts were promoted as "the perfect gift for the whole family", such as the Sparklets Soda Syphon being one such gift. A traditional gift for men was often a practical item, and in particular in 1969 the favourites were binoculars or a multitool, which incorporated a wire cutter, ice breaker, nut-cracker, cork opener, tin opener, screw driver, and piercer.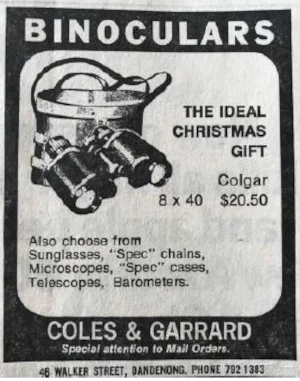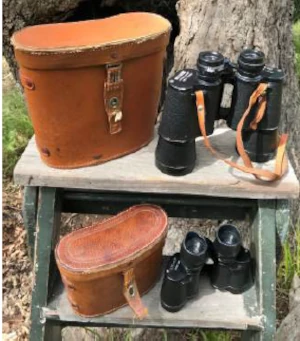 The local Pharmacy's recommendation for women was a classic French perfume, other popular items for this year were Psychedelic diaries, notebooks, address books and telephone books. There were also street stalls or the school fair for the purchase of gifts, generally "homemade" or "home grown" items. Beautiful personal presents for mothers and grandmothers were always well received, including hand decorated nightwear or a knitted cardigan.
Gift giving for the young was highly promoted to encourage popularity, and in 1969 the most coveted by children were the Nerfball, Sindy Doll, Model Apollo Moon Rocket, Risk Board Game and the Malvern Star Bike.
It was a particularly busy time for Santa, visiting the State School with his sack of gifts. Santa would give a present, most often a book. Children would often have a fancy dress day and perform dances to entertain their parents or perform the Nativity Play. Young people from various groups presented concerts for their end of school year at the Beaconsfield Hall, since demolished. There were Christmas Parties and the Carols by Candlelight evenings to attend, carols sung by the crowd attending accompanied by the local Brass Bands.
The festive season may have changed since 1969 but without doubt all those who enjoy the celebration will create a special gathering which will continue to include delicious food and gift giving.
By Penny Harris Jennings