It's been a frustrating time of the year for tennis with all the wind and rain over Spring. The BTC committee and the coaching team have been continually repairing courts and picking up branches to ensure our competitions and coaching remain on schedule. A big thank you to Ossie's Tennis Coaching for putting in the effort to ensure all our players have some court time during the season.
Now that Christmas is just around the corner the BTC committee would like to wish all our families a very merry Christmas. The weekly competitions are on a break over January, but keep watching our Facebook page and website as we announce open days, tournaments and tennis 4 teens over the school holidays.
Halloween at the BTC
Like most days in October, Halloween rained and rained and rained. Regardless of the weather, BTC held their annual Halloween event inside the clubhouse with over 80 trick and treaters scaring the organisers.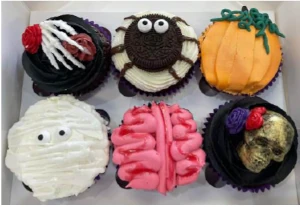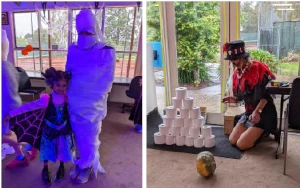 Activities included wrap the 'daddy', pumpkin bowling, eyeball rolling and much more. Two best dressed competitions were held, and Party Girl World Cranbourne supplied the face painting. Some of the prizes consisted of some fantastic Halloween themed cakes and a chocolate house from The Cake Stop.
Free Court Access
On the night of the men's AO final, Beaconsfield Tennis Club will be opening their doors for free tennis. Keep an eye on our Facebook page and website for more information about food and activities run on the night. The final will be shown on the TV in the clubrooms on the night, so you won't miss out.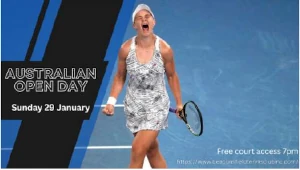 Coach's Corner
Ossie's rules of tennis…
1 The game plan is simple: win the last point
2 Smile: you will play better
3 Footwork is key: so, bring the energy
4 Defend cross court
5 Attack down the line
6 When hitting from outside the court go cross-court
7 When hitting from inside the court go down the line
8 Three-metre rule: when pushed 3m behind the baseline aim 3m above the net
9 Never double fault in a tiebreaker
10 Never miss a passing shot long (depth is not important)
11 Never miss a drop shot or lob wide (width is not important)
12 Respect your opponent and the sport
13 Listen to your coach
Tennis 4 Teens
Tennis 4 Teens will continue through Spring and Summer, including school holidays, on various Sundays announced on the Beaconsfield Tennis Club Community Facebook page.
Watch out for the announcements that week or contact us through Facebook or the website: www.beaconsfieldtennisclubinc.com for more information.
Interclub Competition
Midweek Women's Comp
For the ladies, our club participates in the Dandenong and District Tennis Association competition on both Tuesday and Wednesday mornings commencing at 9:30.
Contact Anja Potter 0437 074 287
Junior competition
For both girls and boys up to the age of 18, our club participates in the Berwick and District Tennis Association on both Saturday and Sunday mornings commencing at 8:00am.
Contact Brad Meates 0405 428 208
Senior competition
Our club participates in the WDTA on Saturday afternoons and is open to all ladies and gentlemen. Contact Adrian Walsh 0425 747 615
Social Competition
Monday/Wed night mixed Comp
Beaconsfield and Officer have two social competitions in collaboration with each other. Wednesday night social is for all abilities for all ages. It's a great night out for those who like a game of tennis but don't take it very seriously. For the more experienced serious player, Beaconsfield/Officer have a Monday night advanced hitters' competition. The format is Rubbers with teams of two. Price per night for both Monday and Wednesday night competitions: Members $5 and Non members $10. Contact Maurie on 0437 759 793 for Wednesday night social and contact Josh McCormick on 0458 869 252 for Advanced Hitters.
Casual Men's Thurs night
For a very casual men only hit, Thursday night is for you. Contact Gavin Baxter 0418 107 363
All night competitions commence at 7:30pm.
Veterans Day Social
For a Sunday morning social hit, come down to the courts at around 8:00 am for a social hit and free coffee from the canteen.
Contact Les Donaldson 0409 435 121
2022/23 Annual Membership Fees
NEW SOCIAL CLUB MEMBERSHIP AVAILABLE
Membership year
The financial membership year runs from 1st September to 31st August. Pro-rata fees are available to new members only. Go to www.beaconsfieldtennisinc.com to obtain a membership form and payment details.
Adult – Competition Play $160
Adult – Social Play $120
Youth – Competition Play $140
Youth – Social Play $100
Junior – Competition Play $120
Junior – Social Play $60
Family – Competition Play $300
Family – Social Play $250
Casual Court Hire
$10 per court (per hour)
Court hire is available at the Beacy Flake Fish & Chips shop. Beaconsfield Shopping Plaza, Shop 2, 55 Old Princes Highway, Beaconsfield. A court key will be issued when a deposit of $20 is paid and will be refunded on return of the key on the same day. The synthetic grass courts are available for hire only when not in use. Competitions and coaching take precedence.
Main Contact Details:
All General Queries Ph: (03) 88205853
Secretary Ph: 0437 759 793 Email: mauricepotter@bigpond.com
Facebook: Beaconsfield Tennis Club Community
Mail: P.O. Box 132,  Beaconsfield,  VICTORIA, 3807
Website: https://beaconsfieldtennisclubinc.com/
Coach: Ossie's Tennis Coaching Ph: 0413594633    Email: ossie30@bigpondnet.au