When Tony Rushton came to live in Beaconsfield, he immediately recognised the importance of the town's history. His passion, enthusiasm and dedication to Beaconsfield is well remembered.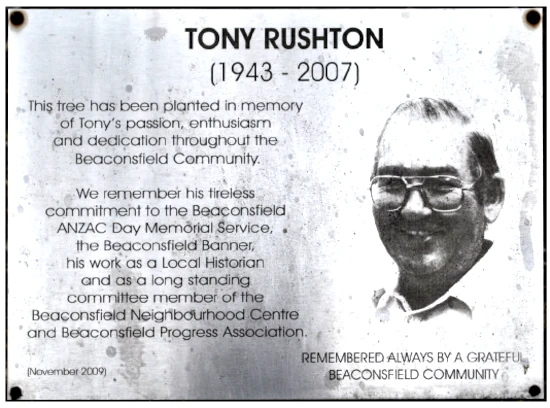 Tony was born in Cheshire, England in 1943. The Rushton family migrated to Australia when Tony was 7 years old. After marrying his wife Dulcie in 1966, they built a home in Souter Street, Beaconsfield. Tony became the local electrician, he was also a proficient printer, engraver and creative badge maker. Tony enjoyed the small-town life, he was well known and respected being involved in many community groups. These included the Beaconsfield Progress Association, Beaconsfield Neighbourhood Centre, Akoonah Park Committee and the publication of the Beaconsfield Banner.
A passionate interest for Tony was the local military history. He believed in the recognition and preservation of the history of local families and their loved ones that fought in the wars. Information was sparse when his research began but Tony continued to investigate and collect all the information possible. With his findings he produced a small booklet about the WW1 Soldiers of Beaconsfield. In 1999 Tony established the Beaconsfield Anzac  Memorial Service, held on the Sunday before Anzac Day, a tradition that the Beaconsfield Progress Association have continued each year to commemorate all the local service men and women. He instigated and accomplished the restoration of the Beaconsfield War Memorial in 2006. Before his untimely death in 2007, he had expressed the desire to continue to identify the local soldiers, men and women from WW1 and WW2 from Beaconsfield. The local memorials he considered extremely important to restore and preserve were, the Beaconsfield Park Arch entrance and The Beaconsfield Avenue of Honour restoration project. The Avenue of Honour project included 65 name plaques, made of pressed metal, they each had the name of a WW1 soldier. The plaques have been in storage for many years. Tony had hoped to secure an agreement on the format of how the plaques could be on display for the public to view.
The Beaconsfield Progress Association has continued the projects that Tony initiated. The Beaconsfield Park, beautification and landscaping restoration project, which included the Beaconsfield Park Arch entrance was completed in 2011 with both Council and Government grants.
The Beaconsfield Avenue of Honour project to identify and commemorate the local WW1 soldiers was completed in 2015. There are new plaques located on the corner of Princes Highway and the Beaconsfield-Emerald Road to view, a booklet was also produced "Beaconsfield Avenue of Honour Servicemen Remembered" and the biographies of each soldier are also available on the Beaconsfield Progress Association website.
Tony's outstanding contribution is recognised and remembered with two plaques, one is located at the Beaconsfield Community Centre and the other is at Akoonah Park.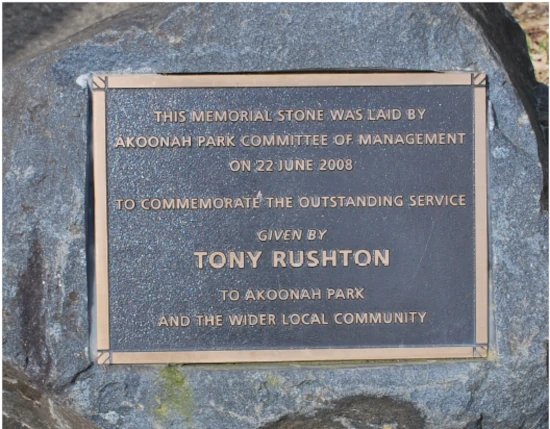 The Community Centre also has a beautiful lemon scented gum tree planted in his honour. The plaques and tree commemorate an inspiring and generous man, who is long remembered for his wonderful endeavours.
By Ann Taylor and Penny Harris Jennings