Phone 8768 4400
We're back! Only for a few weeks until our Summer holiday closure, but we're resuming relatively normal operations now, and we're so happy about it.
Won't it be fantastic when we are no longer referring to lockdowns and "iso" in everyday conversation (as we speak through masks)!? It feels like we're getting there at last and all of us deserve medals for dragging ourselves through these challenging days.
Our AGM was held during lockdown via Zoom and we're delighted to introduce the familiar faces of our "new" Committee of Management for 2021/2022:
President: Tania Baxter
Vice President: Noel Wyett
Secretary: David Milevski
Treasurer: Sharyn Cronin
General Members: Valerie Boumann, Alyssa Jones, Lisa Lynn, Bronwyn McCormick, Gwen Neve, Katharine O'Carroll and Shoheli Sunjida.
We are so grateful that these wonderful volunteers have put their hands up again to govern the Centre and ensure we continue to meet our community's needs.
And speaking of the return of familiar faces, we're beyond thrilled to announce that our beloved Program Coordinator, Sue, has also returned to the Centre. She missed us all too much to stay away for long! Shona did a great job keeping the seat warm for a few months, but the responsibility of her other personal commitments meant that it was her best decision to say goodbye. We wish her every good thing as she moves forward.
Christmas is roaring up and we're embracing the Festive season more than ever this year. We're having fun with naughty elves, thanks to a magnificent donation from Bronwyn McCormick. Come and see who you can find!
Our Christmas raffle has some lovely prizes, so please support the Centre and buy some tickets. We welcome bank transfers if you can't make it to the Centre in person.
There's still time to apply for the Victorian State Government's Power Saving Bonus if you haven't already. This one-off $250 payment helps eligible Victorians experiencing energy bill stress.
Email psb@bncinc.org.au or phone the Centre and we will help you access this assistance. Bookings are not essential but may help you to avoid a wait if nobody is available to help straight away. Each appointment takes less than 15 minutes.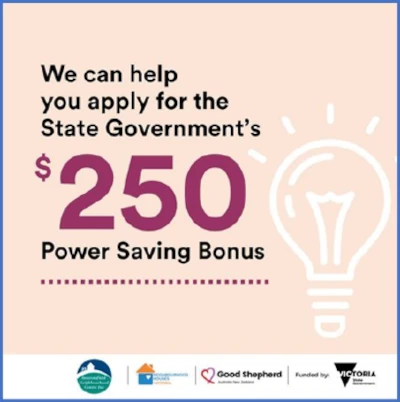 We are already working hard on planning our programs for next year and invite feedback from the community as to what new courses may be of interest. We also encourage anyone with a passion or skill that could be shared with others to approach us about facilitating a new class. We would love to run additional cooking workshops, languages, computer lessons or photography classes, and welcome new tutors. Give us a ring for a chat about the options or email Sue at: program@bncinc.org.au.
In a move towards a more environmentally friendly distribution, we're looking at delivering our printed Program less frequently during the year, starting next year. We will still produce a great guide with details for all of our programs, but reduce the mailbox deliveries. Hard copies are always available at Reception and the digital version is available on our website as soon as it is ready. If you would like every edition emailed, please let us know by dropping a line to: program@bncinc.org.au.
BNC Children's Room
Our 2022 Occasional Care class lists are filling, but there is still availability in all sessions, so get in touch now to secure your place. The timetable below shows the available opportunities in our Children's Room.
We offer flexible options with a variety of session lengths and age groups. Choose one day or a combination of sessions to suit your own schedule and that of your child. Enrolment forms can be collected from and submitted to the office with your $50 non-refundable deposit. (Please note, enrolment IS NOT through an online portal).
Playgroup 2022 enrolment day is on Monday 29th of November from 9.00am. We have three different sessions to choose from, but places are limited. A $20 non-refundable deposit is due upon enrolment to secure the places you require.
Plenty of gorgeous painted rocks have been hidden throughout the neighbourhood and we've had fun seeing the pictures of people finding them. Thanks to our fabulous Children's Room staff for brightening up things for all of us.
Please note that we are following all mandated directions for Covid safety and double vaccination status is required to enter the Centre.
Add us on Facebook and Instagram for the latest updates. We welcome your enquiries.
Stay connected!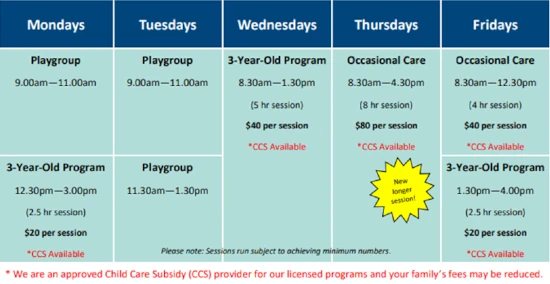 Beaconsfield Neighbourhood Centre
8 O'Neil Road, Beaconsfield
Phone: 8768 4400
Email: contactus@bncinc.org.au
Web: www.bncinc.org.au