Kath Roberts Reserve in Beaconsfield was originally opened in 1988.  In 2021 Cardinia Shire Council has upgraded the playground and park and gardens to a wonderful new community facility.
Beaconsfield Progress Association wanted to ensure that Kath Roberts was remembered, and users of the playground would know why the playground Reserve had been named.
So, working with Cardinia Shire Officers and the family of Kath Roberts, a special sign was made and erected in the playground gardens.
At the opening of the upgraded playground on the 2nd of November 2021 by Mayor Cr. Brett Owen, Kath's grandchildren Elizabeth and Andrew planted a tree in her memory.
When Cr Brett Owen's father Ted Owen was a Councillor in 1988, he attended the opening and was able to attend the reopening again in 2021 with his wife Gail.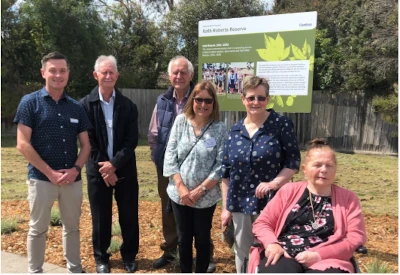 The sign has photos of Kath Roberts and her grandchildren at the opening in 1988 and the story of Kath's life in Beaconsfield.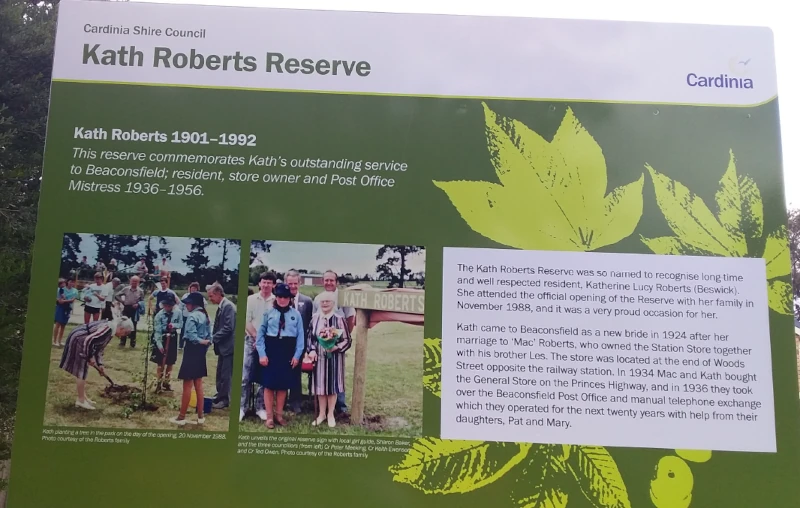 Text on the sign reads:
"KATH ROBERTS 1901-1992
This reserve commemorates Kath's outstanding service to Beaconsfield; resident, Store owner and Post Mistress 1936-1956
The Kath Roberts Reserve was so named to recognise long-time and well- respected resident, Katherine Lucy Roberts (Beswick).  She attended the official opening in November 1988, and it was a proud occasion for her.
Kath came to Beaconsfield as a new bride in 1924 after her marriage to 'Mac' Roberts who owned the store located at the end of Woods Street, opposite the Railway Station.  In 1934, Mac and Kath bought the General Store on the Princes Highway and in 1936 they took over the Post Office and manual telephone exchange, which they operated for the next 20 years with help from daughters Pat and Mary."