As we enter summer it is hard given cool temperatures and constant rain that a summer fire season is fast approaching.
As with every year, now is the time to ensure your fire plan is up to date and ALL family members are familiar with it.
It is essential for the community that borders open grassland or bush that they have a fire plan. The CFA website can assist in detailing a plan.
The basics of the essential plan should always be to ensure everybody is safe. Leaving your property should be invoked in the early hours of a Total Fire Ban.
Remember the three key elements of a dangerous day are as follows:
High temperature
Strong winds in excess of 40 km
Low humidity
Less than 10%
Again remember to take items that are difficult to replace:
Photos
Passports
Important memories
Important documents
Please remember that if you have a fire call today you will have numerous fire trucks responding, but during a Total Fire Ban you may not have any available, or be limited to one appliance. So be prepared to rely only on yourself and your resources.
The brigade has been busy with 78 calls since July 1st. The most unusual turnout was to people trapped in flood waters under the railway bridge.
This incident is proof that cars, people, and floods do not mix well. So as our SES colleagues often say don't drive through flood waters as cars can float, and leave all on board in danger.
Finally the Brigade would like to offer our best wishes for the Christmas period and may 2022 be kind to all of us after a challenging two years.
CFA helps rescue a family of four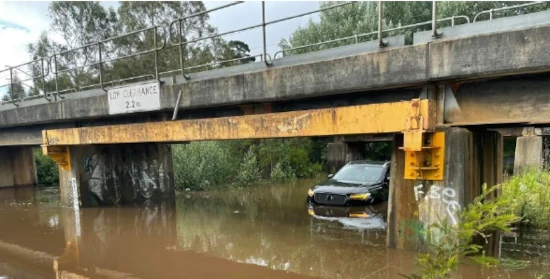 Three CFA units from Beaconsfield Fire Brigade attended the scene with support from FRV crews and SES personnel.
Crews responded just before 5.10pm and arrived to find a vehicle stuck in approximately 800mm of flood water along Beaconsfield Avenue.
Beaconsfield Fire Brigade 1st Lieutenant and Incident Controller Mitchell Watkins said the car was stuck in "waist deep water".
"The car wasn't running, and they couldn't get the windows down," he said.
"After we carefully assessed the scene for hazards, we sent a firefighter into the water to safely open the vehicle doors and escort them out of the flood water.
"Everyone on scene did a great job of working together, quickly bringing the occupants to safety."
Firefighters provided the family with blankets for warmth and handed them to paramedics to be assessed.
Crews declared the scene safe at around 5.23pm.
1st Lt. Watkins said with recent rainfall, this incident was a timely reminder for people to never drive through flood water.
"It only takes 15cm of floodwater for a small car to float or lose traction," he said.