Phone 8768 4400
Are you feeling Christmassy yet?

'Tis the season….
We are rummaging through our tinsel and glitter here at the Centre to add as much sparkle to the end of this challenging year as we're allowed.
At the time of writing this article, Melbourne's new Covid case numbers have been ZERO(!) for over 2 weeks and so we're looking forward to the increased easing of restrictions. As things can change so quickly in this environment, the best way to keep up with what we're doing is checking our Facebook page.
From Monday 23rd November, we are allowed to offer a few of our programs again. Whilst we would love to run our full, "normal" program, unfortunately there are only a few classes that can go ahead with limited numbers and strict protocols to protect everyone. So for the four weeks before our Summer holiday closure, our program will include the following:
Table Tennis Mondays 12.30pm-2.30pm
Children's Dance Tuesdays (starting 17th November)
Yoga with Karen Tuesdays 9.15am-10.45am
Meditation Tuesdays 11.30am-12.30pm
Sit Down Exercise Wednesdays 10.30am-11.30am
Patchwork Social Group Thursdays 9.30am-12 noon
Painting Thursdays 9.30am-12 noon & 12.30pm-3.00pm
Yoga with Karen Thursdays 6.00pm-7.15pm
Sewing Social Group Fridays 9.30am-1.00pm
We are welcoming back our families for playgroups on Monday and Tuesday mornings as well.
We will also be offering 2 cookery classes with Pauline on Wednesday 2nd and 9th December along with a few special Christmas Floral workshops and a one-off Life Writing workshop to prepare students for an awesome 2021. More details will be advertised on Facebook soon.
Ring the office or email program@bncinc.org.au to make further enquiries or book into a course.
Following our first ever Zoom AGM in October, we are thrilled to introduce our new Committee of Management for the 2020-2021 year and thank the outgoing Committee for their service. Along with our trusted and well-loved returning members, we welcome some lovely new faces and we're excited by their enthusiasm. The BNC Committee is:
President: Tania Baxter
Vice President: Melissa Molnar
Treasurer: Lisa Lynn
Secretary: Lynda Smith
General Members: Sharyn Cronin, Alyssa Jones, Bronwyn McCormick, Gwen Neve, Katharine O'Carroll & Shoheli Sunjida.
If you're kicking yourself that you missed the opportunity to invest in your community, don't worry—we welcome interested volunteers all year round! Get in touch when it suits you.
With this year now well and truly written into the history books, we want to turn that page quickly and start fresh. We're looking forward to next year and reconnecting with our community.
To encourage everyone to come flocking back in the new year and compensate in some small measure for the missed opportunities of 2020, the Committee of Management has voted to waive 2021 annual membership fees until the end of February. After "Free February", they will also extend the generosity for "Miserly March" with half-priced annual membership fees for those who are a little slow off the blocks. Normal membership fees will resume from April. You will need to complete your membership form to take advantage of the offer, so come along and join even if you aren't ready to sign up for a specific course yet.
2020 has been an especially testing time for all of us and addressing our mental and financial wellness straight away is vitally important. As the restrictions ease, we may find that the fallout from months of challenging conditions will hit us hard now, even if we thought we were getting through it okay. It is not unreasonable to feel cautious and reluctant to go out and we're here to support a gentle and understanding approach to recovery.
If you are feeling emotionally overwhelmed, financially stressed, under strain, pressure or experiencing anxiety, please, please, please reach out for help! There is so much assistance around for everyone right now and if you aren't sure where to start, we can listen and point you in the right direction.
Christmas Raffle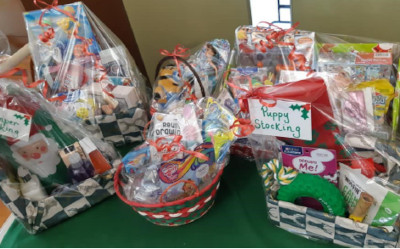 Our fundraising efforts have been a little hampered this year but we have some fantastic hampers and raffle prizes just in time for Christmas. Great as a gift or maybe a treat for yourself!
Plenty of chances to win for just $1 per ticket via direct deposit into the BNC bank account:-
BSB- 633 000
Acct No- 1450 53849
Please use your name as a reference.
Send a photo of your payment confirmation to the Children's Room phone on 0413 054 559 and we will allocate you tickets. The raffle will be drawn on Monday 14th December. Good luck and thank you for supporting BNC. Wishing a safe and Merry Christmas to all!
BNC Children's Room
The Children's Room staff have been awesome throughout the year and are continuing to offer support to families and consistency for children attending our licensed childcare programs. We award them with gold stars and tiaras for their resilience, commitment and flexibility. We have greatly appreciated the understanding and cooperation of our members following the new procedures to keep everyone safe and protected.
We are taking 2021 enrolments and expressions of interest for all of our Children's Room Programs. The programs are offered in the same timetable and with the same fees as this year and we look forward to welcoming new and returning families. More details are further down the page.
There will be holiday sessions of Occasional Care in the week of January 20 and then hopefully Term 1 will resume for the whole Centre at full power from the 28th of January.
Playgroup enrolment day for the 2021 year is on Monday 30th November. Come between 9am and 12 noon to sign up for your preferred session. A non-refundable deposit of $20 is required to hold your place.
Keep an eye out for our Term 1 program in mid-January. If you don't receive a copy in your letterbox, have a look on our website or email us to receive a digital copy.
Children's Room Programs 2021 Timetable
* We are an approved Child Care Subsidy (CCS) provider for our licensed programs and your family's
Start your child's early learning adventures in our purpose built Children's Room. Journey through these exciting stages of development in a flexible and welcoming environment and be completely ready to enter the formal education system.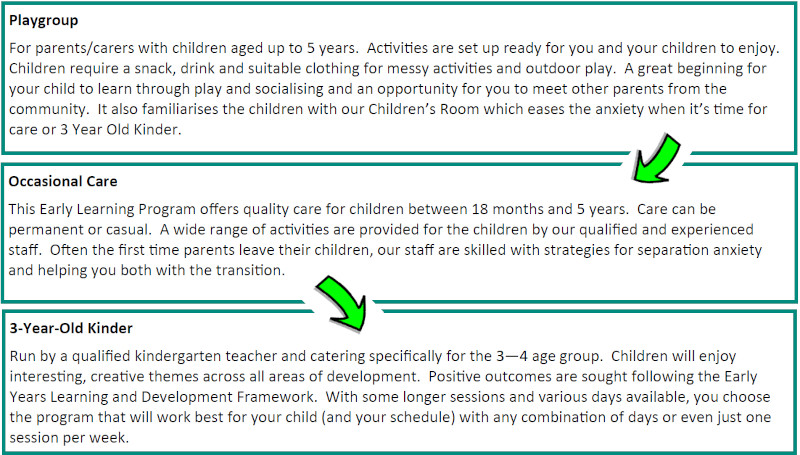 Beaconsfield Neighbourhood Centre
8 O'Neil Road, Beaconsfield
Phone: 8768 4400
Email: contactus@bncinc.org.au
Web: www.bncinc.org.au