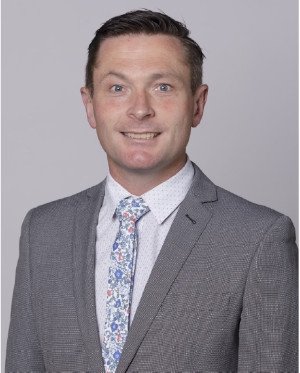 New Council Elected
In October we had local government elections. I am honoured and humbled by the support I received to be elected to be your representative. I welcome my colleague Councillor Tammy Radford from Officer Ward who represents parts of Beaconsfield, mainly the Panorama estate and west of Brunt Road where it meets the freeway. I look forward to working with Councillor Radford for the benefit of Beaconsfield.
Princes Highway intersection upgrades
Several intersections along Princes Highway are being upgraded over the next three years to reduce congestion and travel times and to accommodate increased traffic and development into the future.
These works will be funded by Cardinia Shire Council's Better Local Roads – Princes Highway Intersections Program ($18.3M) and the Australian Government's Urban Congestion Fund ($17.8M).
Work started on the O'Neil Road intersection in November and work is scheduled to commence on Glismann Road/Beaconsfield Avenue intersection in December 2020.
Other intersections planned for future upgrades include Brunt Road/Whiteside Rd, Bayview Road, Tivendale Road/Station Street, McMullen Road, Arena Parade and Thewlis Road.
Kenilworth Avenue update
Kenilworth Avenue is now open to traffic following Council's $1 million-plus investment in Stage 2 of the project. Stage 2 involved installing road pavement and drainage from the freeway overpass to Coach House Lane, and public lighting and a shared path along the length of Kenilworth Avenue. This now completes the sealed road upgrade of Kenilworth Ave from Brunt Road to Station Street.
Playground renewal
Kath Roberts Reserve and Keith Ewenson Reserve playgrounds are being upgraded. Council has engaged the local community to understand what they would like to see in their local playgrounds and playground companies have been asked to submit a proposal based on community feedback. We expect to present the designs back to the community later this year.
Change room upgrade at Perc Allison
Works are underway at Perc Allison Reserve! The upgrade of the existing change rooms will include unisex change room facilities, umpires change rooms, first aid and strapping room and a spectator viewing area. Works are due for completion January 2021.
Changes to hard waste pick up
Cardinia Shire's new hard waste service provides each Cardinia Shire household with the option to book up to two, free hard waste collections each calendar year – at a time convenient to them, plus additional paid collections if desired. That's right! If you can't reuse, donate or sell your hard waste items, jump online (www.cardinia.vic.gov.au/hardwaste) or call 1300 787 624 to book a collection at a time that suits you.
Moving to bookable collections (instead of the previous shire-wide collections), provides residents with a more convenient and efficient service, diverts more waste away from landfill, and reduces the impact of large amounts of hard waste out at one time.
To help keep our streets tidy and safe, hard waste should be placed on your nature strip no earlier than the weekend before your booked collection date.
Bookings can be made online or over the phone. More info: www.cardinia.vic.gov.au/hardwaste
Put your food waste to good use!
Do you have a green waste bin? Did you know that you can now place food scraps in your green waste bin?
All food scraps, including fruit and vegetables, cooked and uncooked meat, dairy products, processed foods and more, can now be placed in your green waste bin, along with your garden waste to be composted into nutrient rich soil for Victorian farms and gardens.
Residents who already have a green waste bin have received a free 'food in green waste bin' kit including a benchtop kitchen caddy, flyer and sticker.
Ratepayers can order a green waste bin any time of year, which also includes the caddy. They are available in two sizes: the standard 240L bin and a new smaller 120L bin.
www.cardinia.vic.gov.au/greenwaste
Seeking interest in connecting socially isolated seniors
Council is seeking interest from prospective volunteers to participate in a new social connection project geared specifically for older adults.
Are you concerned about the impact loneliness has had on the wellbeing of older adults in Cardinia Shire since COVID-19? If yes, you may like to join us to create a project that will enhance opportunities for socially isolated seniors to be supported, guided and connected safely in their own local communities.
We are looking for approximately 20 active older residents of Cardinia Shire who are willing to give around five hours each week to help deliver this project over the next 12 months. If you are aged 55 years and over, have lived in your local community a few years, are friendly and enjoy helping others, have basic computer skills (support will be provided to participate in online forums), and hold a current driver's license, this may be for you.
Before you commit, join us for a project information session, then if you decide to join us, we will look forward to furthering this opportunity with you.
How to register your interest: Email: mail@cardinia.vic.gov.au Email subject: Ageing Well volunteering opportunity
Drop us a few lines about yourself and why this opportunity interests you. Please also provide your contact details.
Enquiries: 1300 787 624
Registrations close: Friday 5 March 5pm
Imagine Cardinia
Share your thoughts and ideas to help us develop the Community Vision, Council Plan,
Financial Plan and Council Budget.
We are developing these plans to help guide council's strategic direction over the coming years and this is your chance to get involved, have your say and make a difference.
Your input will help us develop integrated, long-term, effective and transparent plans that meet the needs and reflect the expectations of our community and guide strategic planning and decision making for the future of our shire.
The current round of consultation closes on 23 December 2020.
Further opportunities for community input and feedback will be available throughout the plans' development, and it is expected the plans will be considered for adoption by council in June 2021.
Help create the future of your shire here www.cardinia.vic.gov.au/imaginecardinia
Together We Can – 16 Days of Activism
In collaboration with Respect Victoria, Together We Can will be rolling out temporary stickers that will be placed on bins at parks/playgrounds and open spaces throughout the shire.
The stickers raise awareness of the call to action to 'Respect Women' as well as promoting support services available to support women who are experiencing family violence. Council has received funding through the Municipal Association of Victoria (MAV) to produce the stickers.
The project aligns with the international 16 Days of Activism campaign, which aims to raise awareness about gender-based violence and will run from Wednesday 25 November until Thursday 10 December.
If you or someone you know needs help, you can contact 1800 RESPECT (1800 737 732), Mensline (1300 789 978) or Safe Steps (1800 015 188).
https://www.facebook.com/twccardiniashire
Grant applications opening soon
Applications for Festival and Event Grants and Community Wellbeing and Support Grants open on 25 January and close 12 March.
Festival and Event Grants
Grants valued up to $10,000 are available to not-for-profit, community-run festival and event organisers to contribute to the cost of running local events that reflect local identity and interests. Applications open 25 January and close 12 March.
Community Wellbeing and Support Grants
This program helps to establish new organisations, projects and services. Funding categories include small change grants (up to $1,000), volunteering grants (up to $3,000) and seeding grants (up to $5,000).
Please visit www.cardinia.vic.gov.au/grants for more information.
Services Supporting Cardinia Shire
An informative listing on the wide range of family, health, and social services available within Cardinia Shire relating to all aspects of service provision including financial, food, disability, and relief services.
Please visit www.cardinia.vic.gov.au community organisations for more information.
COVID-19 updates
The health and wellbeing of our community, supporting community members, and supporting local businesses at this time continues to be Council's priority. While there have been some changes required to some of our services, we are still here for you and working hard to deliver essential services.
Latest updates to Council services
Current guidelines mean modifications to some Council services. For up-to-date info about Council facilities and services visit: www.cardinia.vic.gov.au/coronavirus
Our customer service centre at Officer is temporarily closed, but you can still contact us by phone or email, or access a range of online services via our website.
COVID19 Online Help Hub
Our COVID-19 Online Help Hub features a range of useful resources and information, and is supported by a dedicated team of staff who are on hand to help you find the information you need. More info: www.cardinia.vic.gov.au/onlinehelphub
Local support services and connection
Local groups can provide support during the COVID-19 pandemic, including financial support, housing assistance and food services. To view the directory visit www.cardinia.vic.gov.au/coronavirus
If you're feeling lonely or isolated due to the pandemic – for example, if you're self isolating due to age or health conditions – you can access social, emotional or practical support via the Community Activation and Social Isolation (CASI) initiative.
To access the service, call Victoria's COVID-19 hotline on 1800 675 398 and choose option 3, or call Council directly on 1300 787 624 .
We have received funding from the Victorian Government to deliver the program to the Cardinia Shire community, in partnership with the Red Cross, DHHS and our local providers.
Community & Business support package
Council's support package assists community members, support groups, and businesses to cope with the financial impacts of the COVID-19 pandemic, and includes:
COVID-19 Online Help Hub
Interest-free periods for rates
Rates payment plans and rebates for eligible rate payers
Business Concierge service
Rent relief options for commercial tenants in Council properties
Rebates for some business fees and charges
People experiencing financial hardship are strongly encouraged to contact Council. Details and more info: www.cardinia.vic.gov.au/coronavirus
Cardinia Business online portal
Cardinia Business is a 'one-stop-shop' with support and resources to help businesses navigate current challenges, and a place for our community to support local business.
Buy local map – a map for business operators to add their business to the map to show they're open, and for residents to find local businesses or give a shout out to local businesses they love!
Business support – info about support available to businesses including financial assistance, training opportunities, events, links to free online learning resources, wellbeing information and business tips.
Supporting outdoor dining
Local hospitality businesses are encouraged to contact Council to discuss their plans and proposals if they're looking to take part in expanded outdoor dining opportunities as COVID-19 restrictions ease.
Our officers are available to help identify outdoor dining options. They'll also be able to assist with fast-tracking permits to get businesses back trading as quick as possible.
For information about applying for an Extended Outdoor Dining Permit, visit www.cardinia.vic.gov.au/outdoordining or contact our Business Concierge on 1300 787 624 or business@cardinia.vic.gov.au
Community survey seeks to better understand local needs
Help Council better understand local needs throughout the pandemic by completing a short, anonymous survey. The results of the survey will help guide our response and recovery efforts, assisting us to plan services and programs for both immediate support and recovery. The data gathered will also be used to understand how community needs change in relation to different stages of the pandemic, to help us plan for future pandemics. The survey is anonymous and will take around 15 minutes to complete. More info: www.cardinia.vic.gov.au/haveyoursay
For up-to-date COVID-19 information visit www.coronavirus.vic.gov.au
Cr Brett Owen
Ph:         0418 993 370
Email:    b.owen@cardinia.vic.gov.au
facebook.com/Brett Owen – Ranges