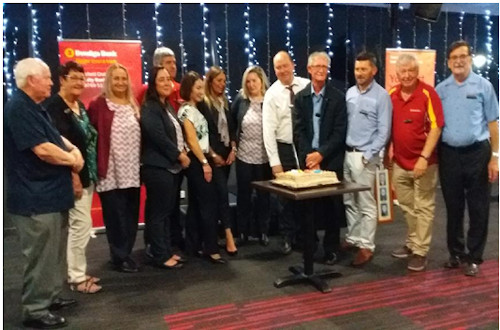 Beaconsfield District Community Bank Branch of Bendigo Bank recently celebrated 10 years of business operations. The Community Bank was set up in September, 2009 to serve the residents of Beaconsfield, Officer, Beaconsfield Upper and surrounding areas as there were no other Banks operating in the area. On the 10th Anniversary Customers, Shareholders and the Community enjoyed a BBQ, Cakes, Tea and Coffee at the Branch.
Community Banks are separate Public Companies with local shareholders that share revenue generated from business as transacted by the Branch and pay all expenses of the Branch including salaries and on-costs, occupancy and marketing expenses. Community Banks return up to 80% of profits back into the community by way of Grants and Sponsorships for local non-profit organisations including schools, sporting clubs and service clubs. To date, our Community Bank has returned $350,000 to the local community. As the 5th largest Australian Bank, Bendigo Bank provides a full range of banking services. All banking transactions are with Bendigo and Adelaide Bank Ltd.
If you are not already a customer call into the Branch at Shop 6, 52-62 Old Princes Hwy. Beaconsfield or phone 9769 5122 to discuss transferring your banking business to your local Community Bank.
Graeme J Taylor
Chairman
Beaconsfield District Community Financial Services Ltd.