Thank you everyone for joining us today to commemorate the Centenary of Armistice.
I would like to begin by reading the Call to Remembrance:
"At the 11th hour of the 11th day of the 11th month 1918 the guns fell silent on the Western Front, to bring to an end the First World War. Our nation and commonwealth has recalled that moment through our Armistice and Remembrance events down the decades, decades during which the men and women of our armed services have continued to pay the ultimate sacrifice. And so 100 years later, we stand here today to remember lives sacrificed in the service of our Country, and those traumatised and injured in conflict. May we have such a devotion to justice and freedom that the heroism of all who fought, and still fight, may continue to be remembered in a nation of service and in a world of peace."
Five years ago, members of the Officer community took the lead in ensuring that these Officer Memorial Gates were successfully relocated to this current site and restored to provide a place of remembrance and reflection for future generations. As part of that process we were grateful to receive a Grant from the Australian Government Anzac Centenary Grants Program, which culminated in the unveiling of our Anzac Centenary Plaque here at the Memorial Gates in 2015.
Our community now comes together each year for our Anzac Day Dawn Service and Remembrance Day Service, with numbers attending continually growing.
Eighteen months ago, the opportunity again arose to apply for a grant, through the Federal Government Department of Veterans' Affairs Armistice Centenary Grants Program. Our application was again successful.
We are here today to unveil a plaque to commemorate the Centenary of Armistice, which lists the names of all who served from our district in World War I, including those who made the supreme sacrifice.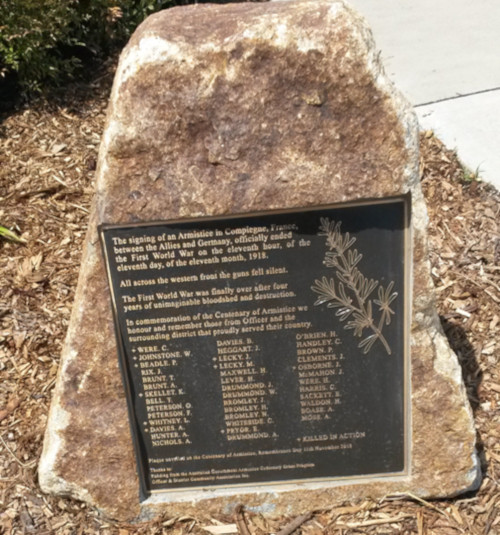 We are very pleased to also launch our book "We Will Remember Them" which provides some insight into the lives of those who served, before, during and after, World War I.
We sincerely thank the Australian Government Department of Veterans' Affairs for providing the funding to make both the plaque and book possible. Allowing us to further honour and remember those from Officer and the surrounding district that proudly served their country.
A sincere thank you must also go to Penny Harris Jennings for her tireless effort in researching and sourcing the information in the book.
An immense thank you too, to Sam Aldersea who spent countless hours on layout and set up and for always being there for technical support and advice.
Without the volunteering efforts of these two people, the book would not have come to fruition.
I would also like to thank the members of the Officer & District Community Association for their dedication to the Officer community.
Thank you too, to our community and youth groups, local schools and sporting clubs for assisting and participating in our Anzac & Remembrance Day services.
ANNETTE ALDERSEA