Knitted poppies are being requested again this time for The Australian War Memorial in Canberra.
To commemorate the 100th anniversary of the end of WW I, on Remembrance Day, November 11 2018, the Australian War Memorial in Canberra plan to create a carpet of 60,000 poppies, to represent each soldier whose life was lost.
If you would like to knit or crochet poppies they can be sent directly to the AWM in Canberra or delivered to the Beaconsfield Neighbourhood centre or Make and Mingle, Beaconsfield Baptist Church who will organise to send them to Canberra.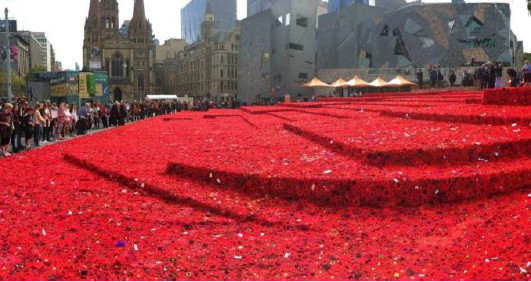 Patterns are available on the internet or from Make and Mingle or BNC.
Many of you will remember seeing the wonderful display of knitted and crocheted poppies at Melbourne's Federation Square on Anzac Day 2015.  This started as 5,000 poppies and became 300,000 and then toured around Australia, then to the Melbourne Flower and Garden Show and then to England for the Chelsea Flower Show.  Poppies were mounted on stems and taken to Fromelles to commemorate the Centenary of the Battle of Fromelles.
The remembrance poppy has been used since 1921 to commemorate service men and women who have died in war.  The poppy was inspired by the famous poem "In Flanders fields".