Beaconsfield Neighbourhood Centre is no longer planning to issue our separate Neighbourhood Natter newsletter each term, and will instead use the Beaconsfield Banner to share news.  Thank you to all the previous Natter editors for their efforts in collating and presenting the Centre news and to Brad Battin's office for their ongoing support over the years with printing.
Our AGM was held on Tuesday the 17th of October.  It's a pleasure to welcome our 2017/2018 Committee of Management with Barbara Hunter as President, Jack Williamson as Vice President, Valerie Boumann as Treasurer, Mim Gillespie as Secretary and Melissa Molnar, Gwen Neve and Shoheli Sunjida as General Members.  There are still some spaces available for new members to join so please contact us if interested.
We are delighted to have received sponsorship from the Beaconsfield & District Community Bank Branch of the Bendigo Bank to purchase a digital data projector.  This valuable addition to our facilities will ensure that information can be shared more effectively in our community.  The projector will also be available for room and hall user groups to hire for their classes or functions.

Our Table Tennis senior volunteers are to be thanked for once again being coaches to the children from Beaconsfield Primary School during Term 4 in an awesome intergenerational program.  Both seniors and children are gaining so much joy from the activity and we couldn't do it without volunteers.
Our free morning tea to celebrate Senior's Week was well received.  Those attending enjoyed some delicious cake, slices, cheese and fruit and other goodies with their cuppa on the 19th of October.
Children's Room
We are excited to introduce a new After Kinder Occasional Care program beginning next year.  It makes sense with the 4YO Kinder sharing our complex that we work together to offer families an option for care following kinder sessions.  O'Neil Rd Beaconsfield Kindergarten staff can escort children through the connecting door between the services for occasional care on Mondays and Tuesdays from 2.00pm to 6.00pm for just $26 per session.
This program is also available to any children in the community aged over 3 years requiring occasional care.  Numbers are limited, so act quickly to secure your child's place.
Plans are moving forward for the Children's Room Playground redevelopment.  The new landscaping will reclaim much of the currently unusable back slope area and freshen up the existing play areas.  The Cardinia Shire Council granted funds through their Community Capital Works program and our tight budgeting and fundraising efforts over the past four years has enabled us to match this grant allocation.  Work will commence over the holidays and hopefully be completed for Term 1, 2018.
We are still accepting 3 Year Old program enrolments and we're excited to meet new and familiar faces in 2018 for all programs.
We're happy to be supporting the Beaconsfield Progress Association's Christmas Window competition.  Bronwyn from BPA has beautifully dressed one of our display windows to get us all in the spirit.  It's a challenge to find the odd item!  Without naming names, some of our staff may be bribed to give clues.  Entry forms and a return box are available in the foyer next to the window.
And speaking of beautiful designs, there are still some places available in our Floral Design workshop running on Friday the 1st of December.
The Centre has a great selection of courses and activities running each school term with our full program available on our website www.bncinc.org.au or hard copies at reception.  Call us on 8768 4400 with any enquiries.
Wishing everybody a very happy festive season from all of us at Beaconsfield Neighbourhood Centre!
Recipe
Do you want to try something a bit different from gingerbread men for Christmas?  These Chocolate Roll-Out cookies from familyspice.com look yummy!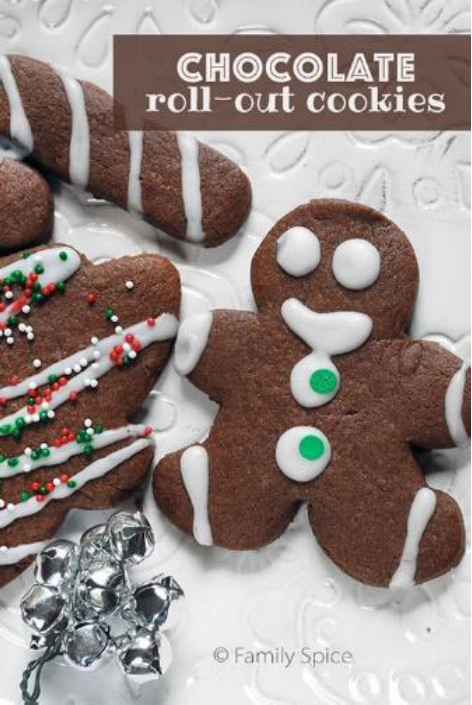 Ingredients:
2 1/2 cups plain flour
1/4 cup cocoa powder (unsweetened)
1/2 tsp baking powder
1/2 tsp salt
1/4 tsp baking soda
1/2 tsp ground cinnamon
1 cup unsalted butter (room temperature)
1 1/3 cup white sugar
1 large egg
90g chopped dark chocolate chips
1/2 tsp vanilla extract
Instructions:
In a medium-sized bowl whisk together flour, cocoa powder, baking powder, salt, baking soda and cinnamon.
In a larger bowl or electric mixer, cream butter and sugar then whisk in egg.
Melt Chocolate chips and add to the butter mixture along with vanilla extract.
Gradually add flour mixture with mixer on low, and beat until incorporated into a dough.
Divide the dough in half and roll into balls, press down and form two discs. Wrap each disc in baking paper and refrigerate for 4 hours.
(Dough can be made 2 days ahead. Keep chilled. Let stand at room temperature 30 minutes before rolling out.)
Position rack in the centre of the oven and preheat oven to 180ºC.
Remove one wrapped pack of dough from the refrigerator at a time.
Roll out dough between 2 sheets of baking paper.
Using decorative cookie cutters, cut out cookies.
Place cut cookie pieces at least 2-3cm apart on greased baking tray or baking paper.
If not icing cookies, decorate with sprinkles or other sugar toppings, if desired.
Bake 1 tray at a time until cookies are firm on top and slightly darker around edges, about 9 minutes for smaller cookies and up to 12 minutes for larger cookies.
Let sit on baking tray for 2 minutes after removal from oven and then move to a cooling rack.
Serve as is or ice and decorate as desired. Store in airtight container for up to 1 week.