THE PRESIDENT'S YEAR IN REVIEW
Another year of football has come and gone all too soon. I would like to extend a huge thank you to all our families and players for their support and contribution to our club throughout season 2017.
Each year, our club survives on the tremendous time each volunteer gives up to make sure our players enjoy their football.  This year was no exception.  This has been my first year as President, and I have continually been amazed at the time and dedication so many volunteers have put into this club.  To get 562 players, in 26 teams, onto the ground each week is no mean feat, but without so many people doing "their" job, it just does not happen.  So once again a huge THANK YOU to all of our volunteers.
Whilst talking about our volunteers, I would like to congratulate our winner of the Volunteer of the Year – Bron McCormick.  Although a very tough field to pick from, I cannot think of a more worthy winner, considering what Bron has done behind the scenes for several years.  Thank you Bron for your years of service, the club is indebted to you and your family. Enjoy your 'retirement' from official duties.
A huge thank you to our committee members who do a fantastic job behind closed doors – thank you all for your time and dedication.  It is appreciated by so many.  To see the smiles on the players faces after a game or training, indicates that we are doing a lot right as a football club.
A special mention must go out to our Executive team. They do a huge amount of work behind the scenes, which I witnessed firsthand this year.  Also moving on from their Executive roles are Belinda and Carolyn.  What these two ladies do behind the scenes is amazing and their contribution to this club is unbelievable.  The time and dedication they have given to the club leaves me amazed and in awe.  Their passion for this club is amazing, and I know everyone appreciates their contribution.  Hopefully all the time and effort they have invested into the club is rewarded by seeing the players smiling each Sunday.  They have both made a huge impact, and leave their roles in a much better position than when they arrived.  I must also mention Tim and Andrea, who have been a great support for me this year – thank you so much for your time and effort in so many different roles.
As a club, we have achieved so much in 2017, including:
Our 2nd Garrleigh Shield Day against Mt Eliza
Registration Day was a very successful day for the club
Our Merchandise room was very well run and supported by so many.  It is great that our merchandise can be seen travelling around the world, proudly worn by our players and supporters
Little Demons day, which our junior players love each year
Junior Grid Games at our Senior home games each week
Youth Awareness Night – Such an important part of the fabric of our club – that assists in making our players better people
Toyota Good for Football night in which Western Bulldogs star Jake Stringer attended
Leadership Academy Program – Another successful year assisting our players to develop their leadership skills
Success of some of the girls chosen to play NAB AFL Women's U18 Championship on the Gold Coast
U17 boys debuted for the Stingrays
Family nights – changed a little this year but the general feedback was that they were a lot more organised and well supported.
Team Photos
We hosted interleague matches which allowed us to show off our fantastic facility to so many people
U8-U10s Presentation Night
Volunteers "Thankyou" evening
Family nights – averaged 150+ meals at each turnout
Total players – 562, Total teams – 26
Of these 26 teams, 18 could play finals – we had 13 make it to first round finals
Premierships – 6 wins and 2 Runners up
Sunrise came to Holm Park for Grand Final Eve
Grand final celebrations back at the club attended to by over 200+ people
Strategic planning evening
Our U12 girls team was chosen by SEJ to play at the EJ Whitten game
Presentation day/nights
Georgia Gee – Our 1st Youth Girl at Beacy JFC to be pick 12 in the AFLW draft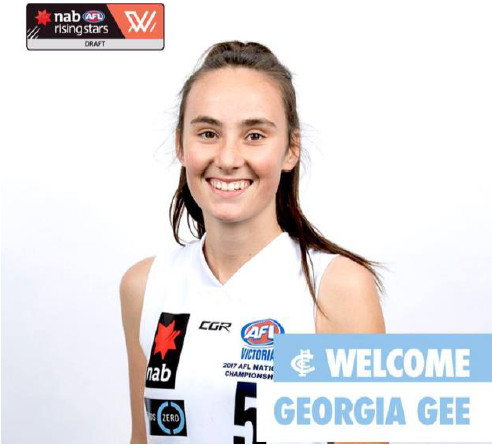 Thank you once again to our fantastic sponsors of our club.  Without them, it would make running the club so much harder.  Where possible please support our sponsors, but also thank them for being our sponsors; HFH Auto Group, Home Hardware Beaconsfield, Berwick Home Loans, Studio Reflections Photography, Perspective Recruitment, Sportsafe Australia, Boardpro P/L, Drake Design Pty Ltd, Bendigo Bank, Beaconsfield Veterinary Centre, Erect-A-Rack, Renseal, Home Grown Design, Clip 'n Climb Berwick, Brad Battin – Member of Gembrook, Garrleigh Trophies, Premiere Hair Salon Beaconsfield, Beaconsfield Village Bakehouse, Lemans Go Karts, Grill'd Fountain Gate, Funtastic Gymnastics, Ducky In The Field Café, Zadoo, Khans Hospitality Services, Cardinia Beaconhills Golf Club, Signactive and Framing to a T.
Again, well done to all our volunteers and players on making 2017 such a momentous year.
We wish everyone in our football community a very happy, safe, and fun Christmas. We are looking forward to seeing the children return with smiles on their faces in 2018, playing the great game of AFL football.
Go Beacy!
Ben De La Rue