Phone 8768 4400
We hope that time is flying like it is because we're all having so much fun!  Our Centre is bustling, even at this traditionally slower time of the year when so many of our members usually follow the sun North.
Our term program can be found on our website and has something for everyone: www.bncinc.org.au.
Community Food Pantry
We are thrilled to advise that we have developed a very welcome partnership with Woolworths Beaconsfield and their food diversion program.  We have been able to add bread to the community pantry and whatever other grocery items that are available on our pickup days.
Although the items are primarily for those in need of urgent food relief, if you would like to take something from the pantry to save a trip to the shops or take advantage of the bread before it reaches its best before date, we encourage a cash donation of which 100% is used to purchase more essential stock.  Please give whatever you can to assist those who aren't doing so well.
You can also donate pantry staples and basic toiletries for this service at Reception or directly onto the pantry shelves.  Please ensure items are not past their use by/best before dates.
Our beautiful knitters, who voluntarily click their needles together to turn out knitted items for charity, recently donated another stack of their amazing work.  16 large blankets, 38 knee rugs, 4 pairs of mittens, 1 jumper, 6 scarves, 6 beanies and 4 pairs of slippers were part of this handover to warm those people in our community suffering hardship.
The Knitting Group meet each Monday 1pm-3pm at the Centre and new knitters are always welcome. They also appreciate donations of wool, and these will be gratefully received at our Reception.
JOIN US FOR OUR AGM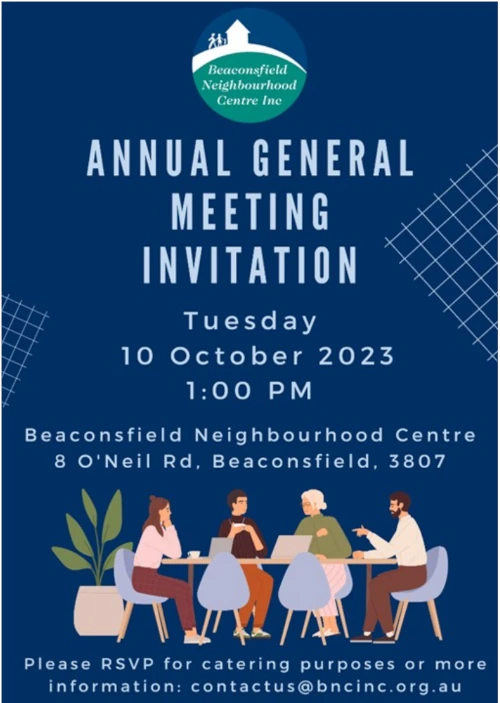 It is the time of the year for us to reflect on the past financial year and thank our wonderful volunteer Committee of Management for their contributions.
It is also the opportunity for new community members to join the governance team.  We welcome people from all walks of life with the simple, common desire to support their local community centre, and by extension, their community.  You will receive full support and a rewarding experience.  Come along to the AGM or have a chat with our lovely Reception staff about the details of volunteering and grab a nomination form.
Beginners Yoga
Due to popular feedback, we are delighted to offer a new evening beginner's yoga class from 7pm-8pm on Wednesdays.  Enya is one of our new yoga instructors and is getting rave reviews from her time covering Karen's classes, so book in for this session now!
FREE TAX HELP
Assistance for low-income earners to submit their tax returns is back at the Centre this year until the end of October. Appointments are available each Friday morning during term time and bookings are essential.  Contact us to ensure you are eligible for this service and to schedule your appointment.
BNC Children's Room
The children recently had fun picking rosemary from the Children's Room herb garden. We have been learning all about this aromatic plant, and even taking some home for cooking.
There are some limited places available for children over 3 years old in our Occasional Care sessions and wait lists offered to ensure you're in line to hear about all other placements as they become available.  The sessions provide children with interesting and creative themes across all areas of development in a small, inclusive and nurturing environment.  Siblings can remain together in sessions and the Child Care Subsidy (CCS) is available for eligible families in our licensed childcare. Contact us for more information and to check for availability in your preferred session.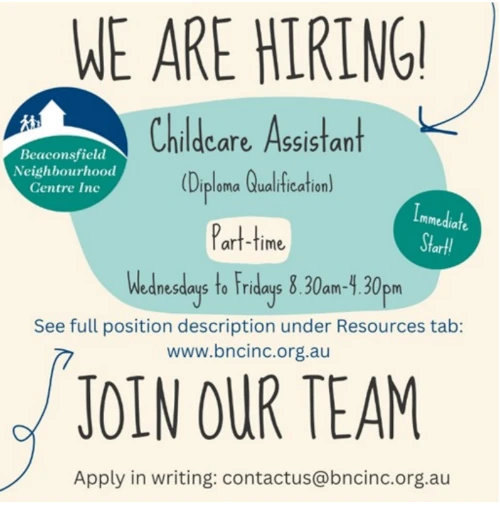 Our amazing, long-serving staff are still here to give the best care and education to your children that you've come to expect. But with changes in the childcare sector, we are looking for an additional Diploma qualified educator to meet the regulations.
Miss Anne unfortunately broke her foot and we're all looking forward to her returning to her full duties as soon as she can hobble back in.  We are also planning for when Miss Alison will soon be taking a short leave of absence.  So, although we are seeing some new faces coming in to relieve our staff temporarily, we are ensuring the highest quality of care remains our priority.
Check our latest program for details of what other activities we have at the Centre.  Hard copies of our term program are always available at Reception and the digital version is available on our website as soon as it is ready.  If you would like every edition emailed, please let us know by dropping a line to: program@bncinc.org.au.
Add us on Facebook and Instagram for the latest updates. We welcome your enquiries, suggestions, and other feedback.  Stay connected!
Beaconsfield Neighbourhood Centre
8 O'Neil Road, Beaconsfield
Phone: 8768 4400
Web: www.bncinc.org.au