When thinking about what, and how, to write this latest article about LXRP Station St Beaconsfield, I was not sure whether to say that we accept that this Project is all about progress and how we have to learn to live with it and embrace it, or, how this Project is still a hugely unnecessary and costly construction here in Beaconsfield. Am I biased because I live across the road from it and it has greatly impacted my life, and that of my neighbours? Should I just be grateful that we have saved the Railway House and bunya tree from demolition?
LXRPs around Melbourne are generally welcomed as they ease congestion, improve safety and often provide brand new stations for commuters. The inconvenience for residents and motorists is accepted for the eventual outcome. Sky Rail, road bridges and trenches are amazing engineering feats and there should be celebrations and congratulations all round when completed. However, here in Beaconsfield does the amount of traffic crossing justify the expense and pain given there are other ways around? Support and comments over the last year tell me that almost all of you do not think so.
So, for those of you who have no need to venture into the Station St./ Beaconsfield Ave part of Beaconsfield, this update is for you.
For those of you who helped us campaign to save the Railway House and bunya bunya tree, wherever you may live, this is for you.
For those of you who, like me, live at Ground Zero of LXRP, you already know what we are enduring every day, all day.
The project to remove the little used level crossing at Station St., Beaconsfield (as opposed to Station St., Officer, that will close) has been underway for four weeks now. Yes, we saved the Railway House and bunya bunya tree but I hope we can still say that in two years.
We had hoped the project would be shelved and the crossing closed, there are a myriad of ways to cross the railway line and we are much better served here than if you lived between Hallam Rd. and Webb St., Narre Warren, for example, or Cardinia Rd and McGregor Rd where there are kilometres between crossings. However, the Labor Government decided, in its infinite wisdom of all things transport and apparently very deep pockets of our money, that spending millions on a huge road bridge was a great and expensive idea! We thought not, and had great support, but sadly contracts were signed and work has begun.
So? What does it look like now? You have probably walked, or driven past this quiet area. The Railway House stood proudly with its red post box out the front.
Here we are recently celebrating with a picnic when our efforts to save Railway House were successful.
The view is vastly different today.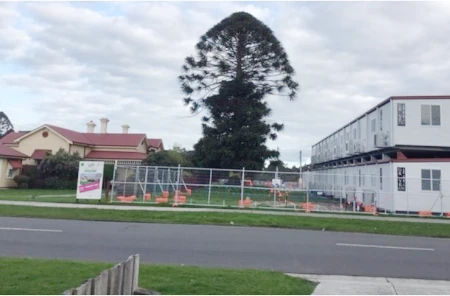 Now there is noisy activity all day long, with heavy vehicles, cranes and trucks constantly busy on this previously quiet thoroughfare, and they are only setting up ready to begin! The crew who will work here will obviously be huge judging by the number of offices, tea rooms, meeting rooms and whatever else will be housed in the double storey complex. I have already counted fourteen air conditioning units, and that is only from one side.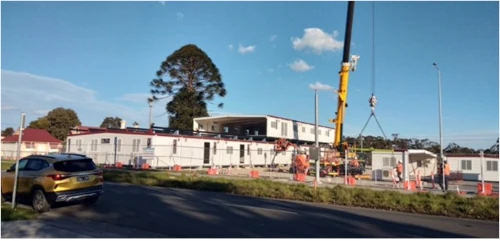 Vegetation has been ripped out and a small temporary fence put up just a few metres around the bunya tree. The impact on the natural environment will cause disruption of habitat for many native flora and fauna and this will ramp up as work progresses down towards the Cardinia Creek.
I wonder about the fate of the little echidna that has been seen around the Railway House and the platypus that call the Cardinia Creek home as much effort has gone into ensuring these little creatures are safe and thriving. A group of kangaroos was also seen in the vicinity recently.
The reduction in carparking spaces at the station has seen a major increase in parking in local streets not designed for all day parking. Some of the drivers need to exercise care and thought as some park too close to driveways and thereby make it hard for residents to safely reverse out. Thank you to Council Parking Officers making regular checks to book those motorists who park illegally. It is particularly hard on bin days when bins are out but cannot be accessed. Commuters have been advised to park at Berwick Station but unfortunately commuters from Narre Warren have been advised to do the same while Webb St and Narre Warren Station faces its own LXRP.
Driving down Beaconsfield Ave, especially at school times, has become quite dangerous with cars parked all day, trucks driving in and out and residents attempting to back out of their driveways so please take extra care and drive to the conditions.
Happy to report the Level Crossing Project Team has swung into action, door knocking affected residents, mostly during the day, and their pleasant, helpful attitude is an effort to appease those of us about to be damaged by this process, let's face it – they have had plenty of practise over the last few years of the Big Build.
A smoking ceremony was held to signal the start of the Project here and seems somewhat ironic given that what was once a quiet patch of greenery and refuge for nature is fast becoming a concrete jungle of danger and risk.
When we see the expense that is this construction it is disappointing to read daily in the papers the various important ways this money could be put to better use e.g. Road maintenance/maintaining disability teachers in schools/reducing waiting lists for surgery/getting ambulances back on the roads attending to cases rather than ramping and many other more vital services to support.
However, it seems that the boat has sailed for stopping this project from going ahead. It is now up to all of us to keep an eye out when we see issues we are concerned about and raise it with the team at contact@levelcrossings.vic.gov.au.
They do respond to your concerns and like to engage with, and provide support to the community. They welcome ideas you may have regarding recycling of felled trees and repurposing items, working with local schools and sport and participating in working bees etc.  Contact the team if you have ideas. If you live nearby and miss them when they call you may like to register with them for more personal communication, alternatively, if you do not want to hear from them, they will respect that too.
As we brace ourselves for what is ahead, I think back to my introduction. I hope the time to completion passes quickly and smoothly. I really hope that the Railway House and bunya tree can survive as well. Our community at the coal face here in the surrounding area will really need to support each other and stick together in the years to come.
We wish Linda and her family, the previous owners who are still currently looking for a suitable home as lovely as the one they are leaving, all the best as they move forward with their lives.
We did the very best we could in very difficult times.
by Fran Healy