GreenSoul Organics is your one-stop-shop for all your certified organic (ACO Cert. No. 13082) and Bio Dynamic fruits, veggies, pantry, fridge, freezer and natural health products. You will also find eco-friendly products that promote the ethos of reduce, reuse and recycle. Plus, we have a selection of personal hygiene, cosmetics and beauty products that are cruelty-free and certified organic.
Organics is not just "chemical-free". It is whole systems or holistic means of growing and handling food. The entire system is linked – Soil, Plants, Animals, Food, People and Environment. Certified Organic products are grown and processed without the use of synthetic chemicals, fertilisers, or GMO's.
Organic certification involves auditing farming and production methods to ensure that they comply with the guidelines of organic production. Wholesalers, retailers, and consumers alike all know that a logo from an Organic Auditor such as ACO is their guarantee of organic integrity. Every step of the process (from paddock to plate) must be audited according to the Organic Standard to be able to market a product using the sought-after organic logo.
You can visit us at Shop 2, 46-50 Old Princes Highway, Beaconsfield. Or call us on 03 9796 1650 for any questions. We also offer delivery service to your doorstep. Customers can place an order via our website www.greensoulorganics.com.au and get their orders delivered either on Tuesday, Wednesday, or Friday.
With the increase in demand for clean and healthy eating, the vision of our sister café, Greens & Grains was born. As people become more conscious of their dietary choices and the impact of food on their overall well-being, there was a need for a café that would cater to these preferences. At Greens & Grains, the primary focus is on crafting meals that are not only high in quality but also made with organic ingredients.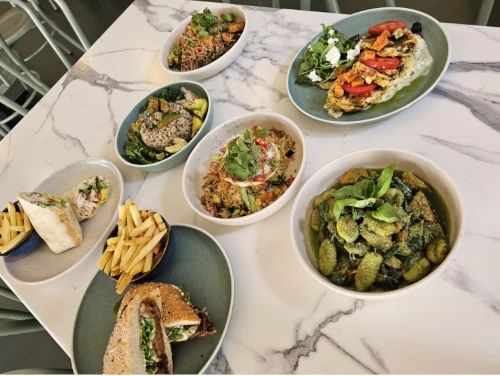 Whether someone is vegan, vegetarian, gluten-free, or simply looking for a nutritious meal, Greens & Grains has something for everyone.  Come and indulge in our custom blend coffee that promises a symphony of flavours. We are located at Shop 1, 46-50 Old Princes Highway, Beaconsfield. Now we also offer online ordering and delivery services www.greensandgrains.net.au.