Memberships 2023/2024
Beaconsfield Tennis Club memberships have now opened for renewal for the 2023/2024 season. Prices have slightly increased due to increased facility costs, however, the key charge is no longer required. Adult and Family play (social & competition) gives unlimited free access to all courts during the day if not being used for coaching or competition.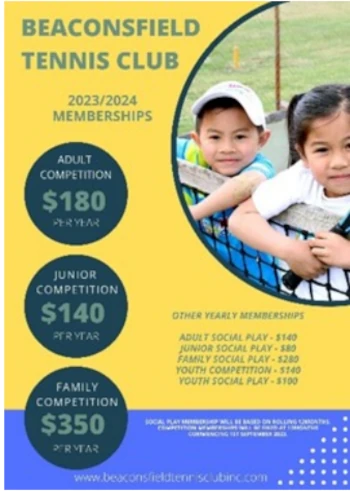 Credit card is now available for payments online. Go to www.beaconsfieldtennisclubinc.com/Membership and follow the links.
Phone (03) 88205853 if you require any assistance.
Juniors Tournaments
Congratulations to Jaxon Westling for coming 3rd in the Western Heights 2023 Community competition. Jaxon, from Section 9 has continued to go strength to strength with his tennis. Well done Jaxon.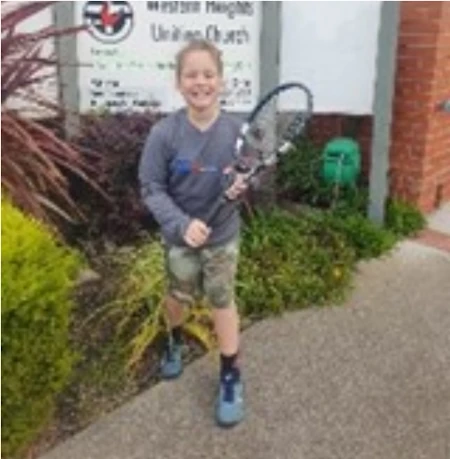 HUGE CONGRATULATIONS to Noah Keltie (second from the left) and his Central Gippsland team on winning this weekend's state teams event in Shepparton.
They had a narrow win on sets in the semifinal against Mornington region and then defeated Loddon region 5 rubbers to 1 in the final with Noah playing some awesome tennis to record a 5-3, 4-1 singles win.
A brilliant week for all 4 players.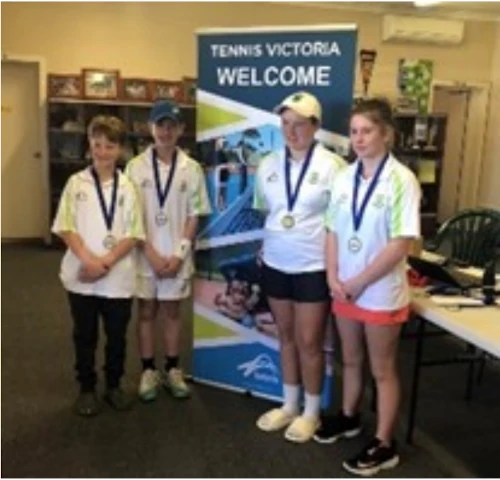 Halloween at Beaconsfield Tennis Club
The Beaconsfield Tennis Club will be holding a special Halloween event again this year for club members and coaching families. There will be fun games, such as roll the pumpkin and wrap the mummy. There will be fancy dress prizes, face painting, free BBQ and lots and lots of lollies. Starting time: 5pm at the tennis club, on October 31st.
New Program: Kerry's Tennis 60plus
In memory of our very dear friend, Kerry McKean, who passed away in May 2022, the Beaconsfield Tennis Club, in collaboration with Ossie Tennis Coaching has developed a program for those aged 60 years and above who would like to play tennis.
Once a month on a Thursday afternoon, OTC will run a modified tennis program for 45 minutes. The participants can then enjoy another 30 minutes of social play if they wish. Waiting in the club rooms when they finish is a fully catered afternoon tea where they can sit and chat about their experiences on court. All this for only $10 a session.
Registrations are required for catering purposes.
If you or a family member is wanting to join one or more of these sessions, let us know by calling 8820 5853. Dates 2023: Sept 14, Oct 19, Nov 16, Dec 14
Start Time: 12pm
Transportation to and from courts is not included.
Thank you to our sponsors!
The Community Bank Beaconsfield District, as a major sponsor, has just announced they are fully funding current maintenance works on courts 5 – 8. Thank you, Bendigo Bank, for all your support.
Thank you also to Syarif and Rachel from Peak Real Estate, The Central Hotel Beaconsfield and Brad Battin, on your continued support you give to our wonderful sporting facility. Remember to support those who support our club.
Interclub Competition
Midweek Women's Comp
For the ladies, our club participates in the Dandenong and District Tennis Association competition on both Tuesday and Wednesday mornings commencing at 9:30. Contact Anja Potter 0437 074 287
Junior competition
For both girls and boys up to the age of 18, our club participates in the Berwick and District Tennis Association on both Saturday and Sunday mornings commencing at 8:00am. Contact Brad Meates  0405 428 208
Senior competition
Our club participates in the WDTA on Saturday afternoons and is open to all ladies and gentlemen. Contact Adrian Walsh 0425 747 615
Social Competition
Monday/Wed night mixed Comp
Beaconsfield and Officer have two social competitions in collaboration with each other. Wednesday night social is for all abilities for all ages. It's a great night out for those who like a game of tennis but don't take it very seriously. For the more experienced serious player, Beaconsfield/Officer have a Monday night advanced hitters' competition. The format is Rubbers with teams of two. Price per night for both Monday and Wednesday night competitions: Members $5 and Non members $10. Contact Maurie on 0437 759 793 for Wednesday night social and contact Josh McCormick on 0458 869 252 for Advanced Hitters.
Casual Men's Thurs night
For a very casual men only hit, Thursday night is for you. Contact Gavin Baxter 0418 107 363
All night competitions commence at 7:30pm.
Veterans Day Social
For a Sunday morning social hit, come down to the courts at around 8:00 am for a social hit and free coffee from the canteen. Contact Les Donaldson 0409 435 121
Casual Court Hire
$15 per court (per hour)
Book a court is now available through our website: www.beaconsfieldtennisclubinc.com
Go to Court hire and follow the links. The synthetic grass courts are available for hire only when not in use. Competitions and coaching take precedence.
Main Contact Details:
All general queries Phone: (03) 88205853
Secretary phone: 0437 759 793
Email: mauricepotter@bigpond.com
Facebook: Beaconsfield Tennis Club Community
Mail: P.O. Box 132, Beaconsfield, VICTORIA, 3807
Website: www.beaconsfieldtennisclubinc.com
Coach: Ossie's Tennis Coaching Ph: 0413594633    Email: ossie30@bigpondnet.au