The winter period has been a busy one for your Brigade.
A number of house fires brings a reminder to ensure you all have an active smoke detector in your homes. They simply save lives.
Unfortunately the brigade has attended three serious motor vehicle accidents in and around the township.
Not only do they take a toll on family and friends but also all the first responders.
We are not immune to the sights we see and only ask that you take care and drive to the conditions of the environment so we all sleep well.
Training moves to the next level with summer approaching and early indications that our fire season could be a long and potentially dangerous one.
The brigade recently held their annual awards night with a 55 years service medal award for Tony Lukas, Brigade Life Membership to former Captain Paul Hayes, 35 year medal to Rhys Owen, and 40 years service to Noel Seabrook.
The brigade has a wealth of long serving members that are recognised for their outstanding service to the brigade, the CFA and of course the community of Beaconsfield.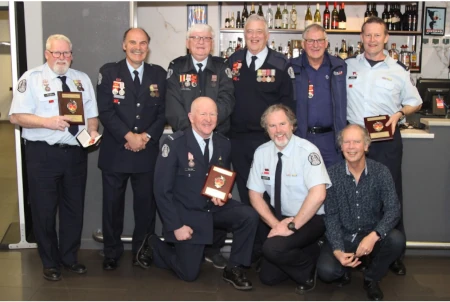 Recently a formal presentation took place for the emergency service medal awarded to 15 members of the station who carried out various roles during the 2019 /2020 fires.
These awards highlight the enormous effort that members go to to provide our community with fire protection and is recognition for dedication and valour during an emergency.
Finally, I will provide some tips prior to the 2023 /2024 fire season in the next edition of the Banner.
Please stay safe.
by Tony Lukas