Why Pink Hill Boulevard?
Ten years ago my wife Wendy and I built in Olde Beaconsfield. Moving from the Western Suburbs we didn't know much about the history of Beaconsfield but were willing to learn.
Over the past 2 years it was interesting to watch the improvements being made to intersections on the Old Princes Highway with O'Neill and Glismann Roads. I was surprised to see the size and traffic capacity at the roundabout on O'Neill Road which allows turns into Pink Hill Boulevard. My reaction was to ask "Why Pink Hill Boulevard?" That question led me to wonderful information being provided by many BPA supporters (refer credits).
Charles Knott built Kenilworth Cottage1 in 1888 and what is now known as Pink Hill was given the name Knotts Hill. That name did not stick and in early 1900's Pink Hill came into common use. With what I have learned over the past couple of months I think the name Pink Hill may have been in common use much earlier than 1888 because field stones exposed on the surface would have been a good pink colour.
For locals Pink Hill referred to the sharp steep hill on the old Princes Hwy approximately between O'Neill Road and May Road. Until the 1960's the Princes Highway was a single 2 lane road which snaked up Pink Hill in an S-bend as the hill was too steep to be negotiated by horse-powered carts or buggies. Pink Hill became notorious as a Black Spot for fatal accidents. Alex Burgess reports that some locals used alternative tracks around to May Rd and so avoiding the dangerous climb up the hill.
Major changes to the Princes Highway affecting Pink Hill occurred in three stages. In the 1960's the critical safety issues were addressed and a deep road cutting was constructed to eliminate the S-bends and the single two lane road could sweep around towards Officer/Pakenham. The Pink colour developed on rocks both sides of that cutting.
More changes occurred in the 1970's when the cutting was significantly widened to accommodate 4 lanes resulting in the existing rock face on the north side. That almost vertical cutting is about 8 metres high and 200m long and now provides a good site for viewing the rock face where around 70% of the rock shows a good pink colour. Native trees planted in conjunction with the roadworks almost obscure the view of the Pink Rock face from the road. Please be careful if you park on the grass 100m past the pedestrian crossing to inspect the rock face as cars can be doing 70 kmph.
Then around 1983 in conjunction with the construction of the Berwick Bypass the south side of the old cutting was removed and a huge graded bank was created to provide lanes to access the freeway. That graded bank is not showing any signs of pink rock.
Is the Rock Truly Pink?
The attractive pink colour is only on the surface. The composition of the rock is in layers which are fairly crumbly making it unsuitable for use in walls or buildings. It seems the rock would need to be exposed to the atmosphere and rainwater for some time to allow a chemical reaction with naturally occurring metals or compounds to produce the pink surface colour.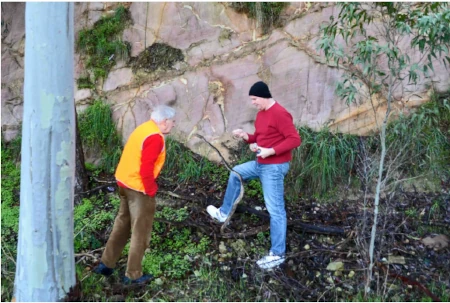 What causes the pink colour and how long the reaction takes is subject of investigation. Ian Chisholm put me in contact with Dr James Driscoll, a geologist from Monash Uni. Jim visited the cutting site and enthusiastically collected samples of Pink Rock for laboratory analysis. I was hoping his report would be available for the Beaconsfield Banner summer edition. It will be good to have an insight into the process which results in the pink surface on the rock and possibly some comments on the geological origins of Pink Hill.
Where Else Can Pink Rock Be Seen?
A block of land at 3 Fraser Daley Court is currently for sale. Part of the site has been cut and levelled in preparation for a house and a good range of pink colours are evident. A few metres of gutter opposite 8 Glismann Road is showing fairly good pink colour. Almost immediately past the lights where traffic from the freeway turns left towards Beaconsfield there is an access road to a property. The end of a small retaining wall has been trimmed with some lovely pink field stones.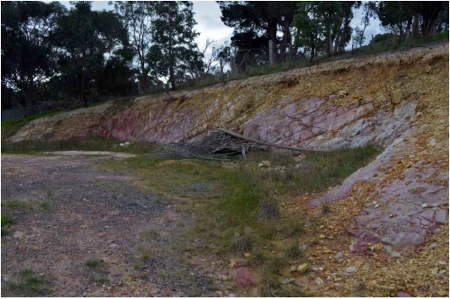 From what I have been told and learned it seems that pink rock at Beaconsfield is restricted to about one square kilometre. Pink Rock of this nature, while not being unique, may not be common. The only other reference I could find for Victoria was for Pink Cliffs Geological Reserve, Heathcote.
www.goldfieldsguide.com.au/explore-location/440/pink-cliffs-geological-reserve/
Pink Hill Boulevard- Present and Future
At present Pink Hill Boulevard in Beaconsfield is a single road running a short distance from O'Neill Road to May Road terminating where a huge hotel is approaching completion.
In contrast, Pink Hill Boulevard Officer is already duplicated and runs from Timbertop Boulevard back almost to Whiteside Road. Eventually a connection, involving major roadworks, will be made from Whiteside Blvd across May Road.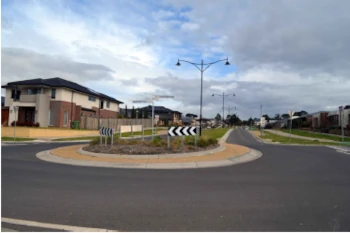 For an appreciation of the future plans, enter 'Pink Hill Boulevard Beaconsfield' into Google Maps and zoom to see where the connection will run.
Pink Hill Hotel at 20 Pink Hill Boulevard
 The Pink Hill Hotel is nearing completion and is advertising for staff. More on this link; www.pinkhillhotel.com.au.
To provide a fairly level site for the hotel a deep cut along a line almost parallel with May Road was made. Almost certainly, after time, that cut would have shown pink colour which we will never see because it has been entirely covered with a retaining wall.
Credits
Many people helped me get this far. Ann Taylor used her network. Penny Harris Jennings provided history of names for Pink Hill. Ian Chisholm put me in contact with a helpful geologist. Jen Grbic, Alex Burgess with Annette Aldersea provided information on the changes to the Princes Highway and the Freeway access road.
1 Here is a link to more details, from the BPA web-site, on Kenilworth Cottage (the Railway House on Beaconsfield Avenue) and the massive Bunya Bunya pine tree which could now be more than 130 years old. www.beaconsfield.org.au/railway-house/
Alex Smart
11 August, 2022