The brigade continues to be kept busy with the ongoing training of current and welcoming our new recruits.
The number of fire calls continues to grow with the brigade active in supporting Berwick and Officer brigades. The number of calls since July 1st is 30 which is close to one per day.
The brigade would like to advise residents that you do not use a plastic bucket and assume that fireplace residue is still hot and not to leave it near your house.
The brigade has attended 3 calls this winter that involved fires caused by hot coals with one causing significant damage.
The brigade recently held its annual awards night held at the Beaconsfield Football Club premises.
The night highlights brigade and CFA awards with milestone awards to Brian Unwin and the pinnacle of awards being the Bob Burgess Award after our late Captain and highly respected firefighter.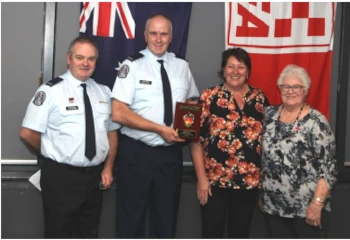 The award this year went to brigade lieutenant Jason Mackenzie who was selected by his peers for service and commitment above and beyond his normal duties which in today's CFA are significant. Well done Jason.
The brigade is constantly looking for new, motivated recruits for day time calls.
Full training is provided by the brigade and we only ask for your commitment to assisting in turnouts, and brigade maintenance and cleaning.
Finally please take care on our roads and we are all going to enjoy the road upgrades in our area.