Farewell Mr Methven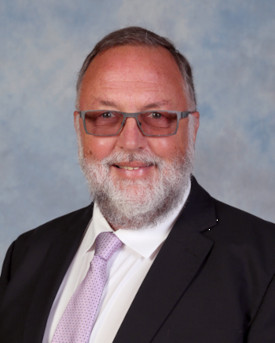 Last term, we farewelled Gary Methven as he retired from teaching after 43 years of working for the Department of Education and Training. Gary came to Beaconsfield Primary School in 1997 – 24 years ago. He was the Assistant Principal and then become the principal in 2001.
Over the 24 years at Beaconsfield Primary School, Gary has seen the school grow from a small school of a couple of hundred students to a school of 700 students and over 60 staff. Regardless of the size of the school, he has ensured that it continued with a community feel and building relationships was always his number one priority.
The site of the school has changed over Gary's time with additional buildings being built and playgrounds. One of Gary's favourite projects to work on was the installation of the playground at the back of the school. Gary sat with the students to ask them what they wanted in a playground. Their response was something to climb and a slide. Gary and the students then met with playground designers and many companies drew up designs for our new playground. These designs were displayed in our library and students, staff and parents could vote on their favourite design. The winning design is now a very impressive playground that is loved by all students.
Gary was asked by our students what was his greatest achievement and this was his response:
"Some schools are built from brick and wood, but our school is built from kindness! I have enjoyed the privilege of working with so many wonderful teachers over the years; extraordinary teachers who embody our Beacy Culture. These teachers believe that every child can learn and then they shower our children with their love, care and respect; engaging and connecting them to school and each other.
"Our teachers model care and compassion to our students and take every opportunity to elevate them, praise them and build their self-esteem. Our teachers fuel a love of learning and academic pursuit, imagination, curiosity and wonder, so that our children can create their own bright futures. This is what Beacy culture is all about. During the darkest, most difficult of times of the COVID-19 pandemic, my teachers supported this community, projecting hope in every home, supporting resilience and optimism for the future in every child! I am so proud of my staff. Our teachers are my greatest achievement and my legacy to the community. The school doesn't stop when I walk out the door; Beacy's culture is much bigger than any principal because our Beacy culture runs deep in our veins and kindness flows through every heart.
"Our Beacy children are a celebration and exaltation of the human spirit and I will be a bit cheeky and claim this as my other greatest achievement shared with their parents and teachers! Every time a child shows kindness to another, respect for their peers or teacher or compassion for others, that is a Beacy vision. Every child who strived to learn and do their best or shows ambition or surprises us with their questions should be celebrated. When we see a child's curiosity at work or witness their sense of wonder, we know that learning will follow. I am grateful for the child with a big sense of humour or who can see the fun in their everyday life and we love to see those children with a sense of justice and integrity as they take on the work!
"My life and your lives are linked forever because of the experiences and special moments we have shared here at school. Beaconsfield Primary School has been an important part of my life story and I would like to thank the parents, teachers and children who have enabled me to share their lives. As Dr Seuss wrote: 'Sometimes you will never know the value of a moment until it becomes a memory'."
We will miss seeing Mr Methven at school every day but wish him all the best for his retirement – he certainly deserves it.
A Beacon at Beaconsfield Primary School
This year we celebrate the amazing work and commitment of Ellie Dodd, who has achieved 30 years of service as a School Crossing Supervisor. Ellie has ensured the safety of children and families for the past three decades.
Ellie began her career relieving at a number of schools across the Shire of Cardinia before she settled at Beaconsfield Primary School. She has worked at this school's crossing for 29 years. Over this period, she has seen a lot of change to the Beaconsfield community. When she commenced in 1992, it was a flagged crossing. Ellie recalls it being a very quiet crossing and only seeing students walking to and from school – never their parents.
As the growth corridor through the south-east grew, so did her job. More students, siblings and parents were using the crossing and the highway became a busier road. The crossing was upgraded to lights and lower speed zones were introduced to ensure the safety of all pedestrians.
Ellie is the first and last person that many of the Beaconsfield Primary School families see. They are always greeted personally with a smile and a 'hello'. Ellie does an amazing job at remembering students' and parents' names and she has seen many generations using her crossing. She loves reconnecting with families over the last 30 years.
Ellie's own children used her crossing as they attended Beaconsfield Primary School. Her three children attended the school in the 1990s and now the second generation of the Dodd family are attending Beaconsfield Primary School, with currently three of Ellie's grandchildren at the school.
The Beaconsfield community are very appreciative of Ellie's work and congratulate her on her achievement of 30 years of service and many more to come.