Phone 8768 4400
Well, who would have been able to predict the events of this year!?  We're living through a time that will be featured in the history books of the future and hopefully you are finding the silver linings of being at home and keeping up a strong can-do attitude.
Although the Centre has spent many months unable to open for our usual programs, we are still connected with our community and hope that the challenges of these strange days are not too overwhelming.  If you want someone to phone you for a chat or are in need of any help, please reach out!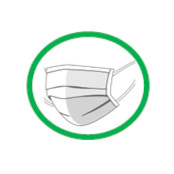 The Cardinia Shire has issued us with some free face masks to distribute to those in need within our community.  For details, contact us via email contactus@bncinc.org.au or text 0423 915 203.
Our Committee of Management President, Shoheli Sunjida, has also been busy sewing free masks for the needy and vulnerable members of our community.  We commend her personal efforts to support the community.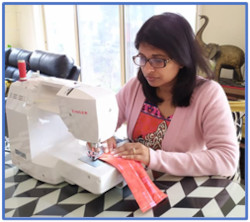 Text Shoheli directly on 0450 233 674 if you're interested.  She is also involved with several charity organisations organising food boxes for those in need, so please reach out to Shoheli for advice on how to receive this assistance.
At the Centre, we had a little pocket of time in the middle of lockdowns to offer some simple programs within the restrictions.  Our sewing, craft and patchwork groups were happy to get stitching together again and our painting classes were also back to brighten up the place.  Even with the physical distancing, it was lovely to catch up in person for a little while.
Our amazing tutors have been adapting to the situation with online teaching programs and interest groups.  Sharon's popular floral classes have found a digital platform: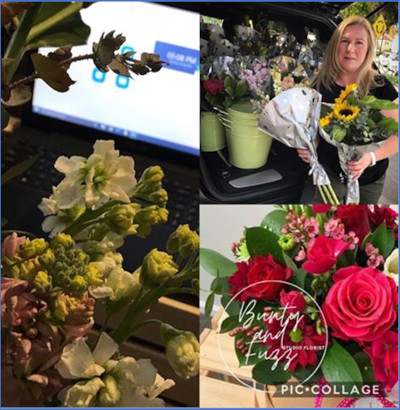 Adriana has continued teaching Spanish online and Pauline is sharing tips and recipes in our Facebook cooking group page.  Simone has set up a fabulous home studio and is successfully running her strength training classes remotely too:
NOTICE OF ANNUAL GENERAL MEETING
Our AGM is fast approaching.  Set for 15th of October at 7pm, we invite all members and welcome new faces to attend.  If restrictions at the time prohibit a meeting at the Centre, we will hold the AGM online via Zoom or a hybrid meeting with both physical and online attendance.  A link will be posted on our webpage and via social media if this occurs.
All positions on the Committee of Management are declared vacant at the AGM.   The Centre needs volunteers with a strong community spirit and a small amount of time to give each month. We offer rebates on your course fees for participating because we are very aware of how busy everyone is and want to show how much we appreciate your time and skills.
To nominate yourself or someone else to join our Committee of Management for 2020/2021, contact the Centre for nomination forms and further details.
BNC Children's Room
Because childcare is considered an essential service, our Occasional Care and 3-Year-Old sessions have been able to continue throughout the Covid-19 pandemic.
Our Children's Room staff deserve high praise and many thanks for their commitment and service during this time.  They are ensuring our littlest members continue to feel safe, engaged and "normal".
Miss Anne has been offering remote 3YO kinder for those children not attending the Centre in person and we've loved the positive feedback and shared images from the families participating in this program.
Even with grim restrictions, there is still plenty of colour and flair in the Children's Room.  Extra procedures are in place for everyone's protection, so please follow instructions from staff at all times.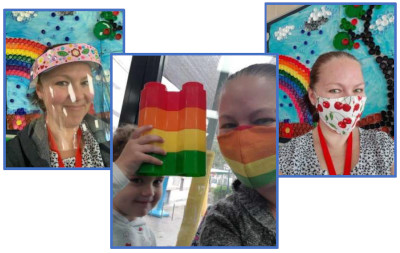 We received loads of plastic bottle caps from our members earlier in the year to upcycle into this super cool mural: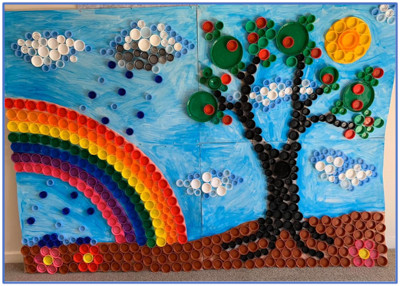 We are now taking enrolments for next year's 3YO programs.  Don't worry about completing the forms at the moment, but do contact us and we'll put your name down to hold a place for your child.
We're hoping that we will be able to resume with a little more normality next term.  We won't print or post our Term 4 Program to save on costs a little, but keep an eye out online for a digital version.  If you would like it emailed, please let us know by dropping us a line to contactus@bncinc.org.au.
Add us on Facebook and Instagram for the latest updates or check our webpage.  Stay safe and well!
Beaconsfield Neighbourhood Centre
8 O'Neil Road, Beaconsfield
Phone: 8768 4400
Email: contactus@bncinc.org.au
Web: www.bncinc.org.au