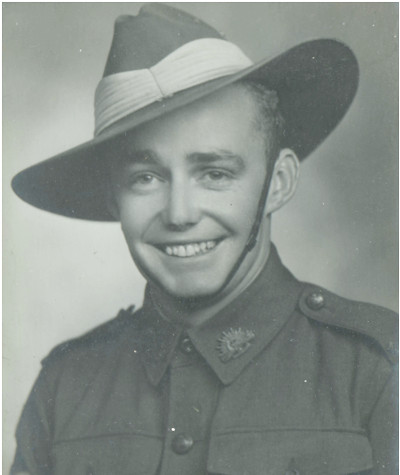 This year is the 75th Anniversary of the end of World War Two.
On 3 September 1939 Prime Minister Robert Menzies announced that Australia would be entering the war.
Beaconsfield at that time was a small rural district with a township surrounded by farming, primarily dairy, and fruit growing.
Residents would journey into the township to collect their mail, shop for supplies and to transport their children to attend school.
Locals could gather and socialise at the two hotels and on occasion there would be celebrations and gatherings at the local public hall.
Not long after the announcement of the war the local men and women began to enlist. Farewells were held at the hall, large gatherings wishing the "boys" well. They would also be given parting gifts such as a wristlet watch and a parcel of home comforts.
The Beaconsfield Patriotic Committee arranged social gatherings with dancing to raise funds in support of the local "diggers".
By late 1942 the impact of the war had began to take its toll on the small community. Thomas Perkin who operated the only grocery store closed his business due to a shortage of supplies. This did not discourage the young men from enlisting because that same month six more "local boys" were farewelled.
In 1938 Harold "Horrie" Heathcote, age 16, was a prefect in his final year at Dandenong High School and living with his parents Frederick and Annie Heathcote at "Eyrl Park" Clyde Road, Beaconsfield.
School completed, Horrie was employed with the State Electricity Commission and then the State Savings Bank of Victoria.  He enlisted with the Citizen Military Forces in December 1938, walking out of school and down the Princes Highway to the Dandenong Drill Hall to sign up.
Horrie then joined the Australian Imperial Force in July 1942, serving in Queensland, protecting the Air Force Base on the Cape York Peninsula and on Thursday Island. During leave in June 1945, Horrie came back to Beaconsfield and married Rena Florence Emma Dawson in Christ Church, Berwick.  Their reception was held in the Beaconsfield Hotel which was run by Horrie's parents (Annie & Fred Heathcote).
After a brief honeymoon, Horrie returned to military duty, joining the 1st Australian POW Contact and Inquiry work in Manila and the Division on Okinawa Island, he then flew with them to the 27th American Infantry Division on Okinawa Island.  He then flew with them to mainland Japan on 7 September 1945, as a part of the occupation force.
Arriving back in Sydney on 28 November of 1945, Horrie was discharged on 2 January 1946.
After the war Horrie returned to his position at the State Bank of Victoria and became a State Bank Manager, initially living in Dandenong and later Berwick.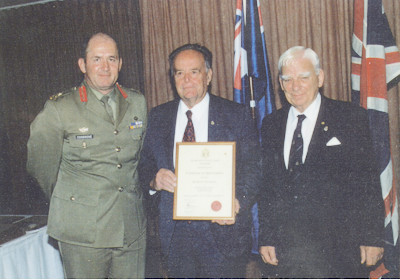 Horrie was involved in Legacy and Secretary of the 52nd Battalion Reunion Group for over 50 years. In 1999, General Peter Cosgrove and Bruce Ruxton presented him with a certificate of appreciation for his service to the RSL.
On Remembrance Day 2018, Horrie represented his regiment as a dignitary at the unveiling of the Gippsland Regiment Bridge at Prospect Drive, Narre Warren. Sadly, the following year in June, Horrie died; he was described as a respected, loving and treasured husband, father and pop.
Researched and written by Penny Harris Jennings with updates from Elizabeth Heathcote 2020