The Liberal Morrison Government and I have some very exciting plans for the great people of Beaconsfield.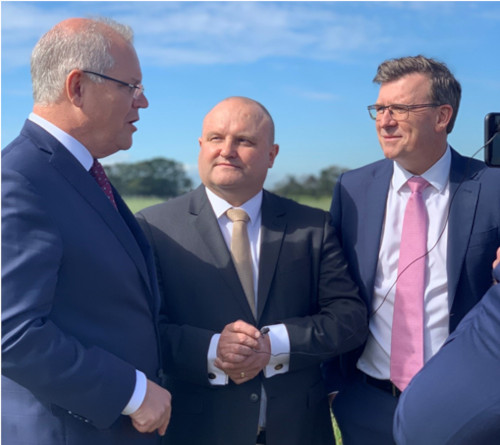 Jason Wood MP at the announcement of Monash Stage 2 with Prime Minister Scott Morrison and Minister Tudge
At the beginning of March, before this terrible pandemic set in, I met with Prime Minister Scott Morrison and Minister Alan Tudge to announce the upgrade of the Beaconsfield interchange and the extension of O'Shea Rd.
La Trobe is one of the fastest growing electorates in the country and we need the infrastructure to match it.
That's why we have committed $1.4 billion to the Monash Freeway Stage 2 works and for upgrading the Beaconsfield interchange. This will create local jobs when they are needed most. This improvement will directly impact the development of Minta City, opening up 10,000 new jobs in the IT and advanced manufacturing sector.
Many residents over the years have voiced their concerns about the lack of parking at Beaconsfield train station. That's why I have committed to upgrading the train station carpark, which I'm proud to say Stage 1 is now under construction, this will deliver an additional 150 much needed spaces.
Sporting facilities are also being attended to. We have already completed many sports facilities upgrades in Beaconsfield. Be it the protective nets for Beaconsfield Football Club members, the electronic scoreboard for the Beaconsfield Netball Club and the new grass at the Beaconhills Golf Links.
We have also got more exciting projects underway for Beaconsfield sports fans, including:
$500,000 for changerooms and facility upgrades at the Beaconsfield Recreation Reserve.
$500,000 for the Upper Beaconsfield Cricket and Scout facility upgrade.
I want to reassure the people of Beaconsfield that despite this awful pandemic we have not given up on our promises to deliver for the people of La Trobe. Even though we may be locked inside, the Liberal Morrison Government is still getting on with the job of building a better community.
As your proud member for La Trobe if you need any support or advice, my office is still reachable via:
Phone : 03 9768 9164
Email: Jason.wood.mp@aph.gov.au
Facebook: www.facebook.com/JasonWood.updates