What is Neighbourhood Watch?
This is a question that I've become accustomed to hearing. Over the past 35 years of Neighbourhood Watch's life we have grown and changed as an organisation, and we continue to change and grow today to help address our community's changing environment and demographic.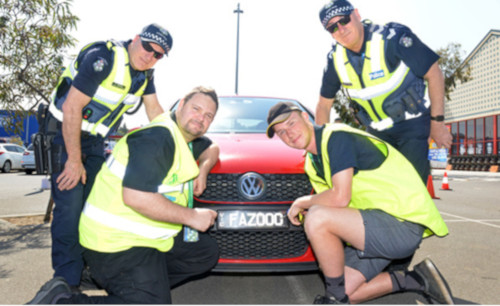 Neighbourhood Watch (NHW) is a community crime prevention initiative that is managed by passionate and skilled volunteers from our local community. Upon our organisations creation in 1983 by Victoria Police, we were tasked back then to address issues surrounding growing crime figures in burglary, theft from motor vehicles, and theft of motor vehicles. Whilst it seems that our organisation and our community have changed greatly in those 35 years, the issues we focus on have not changed that much at all!
Neighbourhood Watch today focus our attention on a vast array of crime and social related issues that have an impact on crime, and the safety and wellbeing of our greater community. Working in partnership with Victoria Police and the Department of Justice and Regulation we primarily provide education and awareness programs to our community to help reduce the incidence of preventable crime in our neighbourhoods. This is an ongoing education process targeting simple tips and daily practices that can make a significant impact on the prevention and reduction of crime. Burglary, Theft from motor vehicles / of motor vehicles, Rural thefts, and Online scams are subjects we are in constant conversation with our community, and making people aware of self-protection and preventative measures results in less victims and a reduction in the rate of local crime.
NHW Cardinia is run and represented by caring locals from around the Cardinia Shire. We participate in a broad range of activities within our community that focus on crime prevention, as well as providing assistance to other NHW groups around Victoria in a mentoring relationship under the leadership of NHW Victoria.
Our average month of activities can look like this…
Community group guest speaker
Community group crime prevention presentation
Cardinia Community Safety Network committee meeting
Department of Justice and Regulation briefing
Cardinia Crime Action Group committee meeting
Cardinia CPTED Advisory Committee meeting
Pakenham Blue Light Disco
Coffee with a Cop
Social media crime prevention awareness posts
NHW Cardinia Management Committee meeting
NHW Cardinia sub-committee on Youth Education Program meeting
Cardinia Combined Residents Group Committee meeting
Attend various community group meetings
Safe Plate Day installing anti-theft screws to car number plates
We are always looking for new opportunities to grow our membership and encourage those members to assist as a volunteer from time to time. And as we grow in size we are seeking new community groups and community events to attend and work together with in order to help our community become more aware of NHW Cardinia, grow their resilience, and help to create a happier and safer community for all Cardinia Shire residents and our visitors.
You can find Neighbourhood Watch Cardinia on Facebook to follow our awareness posts, and the occasional Friday funny photo. To meet us face to face, look out for our marquee at large community events, like the Pakenham Carols by Candlelight, or visit us for a chat at a Coffee with a Cop.
So, lets watch for each other, and please remember to lock your car, and lock your house!
David Farrelly
Neighbourhood Watch Cardinia
Secretary / Chairperson
nhw.cardinia@nhw.com.au