Time flies when you are having fun, and that is what the Joeys, Cubs, Scouts, Venturers and Rovers have been doing down at Beaconsfield Scout Group

This term the Joeys have had a 'Not all heroes wear capes' theme, with them looking at heroes, yes they have made a hero wall of themselves, as well as capes and masks. They will be going to see some real-life heroes at the Pakenham SES in early September with the Cub pack.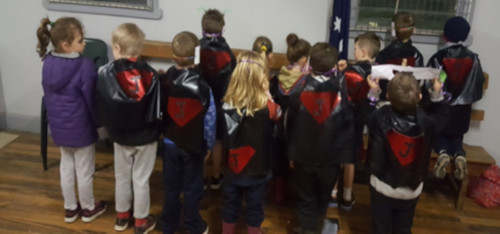 The Cubs have had a busy term with leadership camps, outdoor cooking and a sleepover at the hall, complete with trivia night and movie, this was a great success. Three Cubs were awarded with Grey Wolf Awards this term – congratulations to Alannah, Matthew and Ruby, who have progressed to Scouts.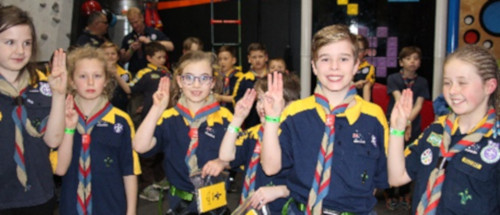 Scouts have been busy too with district events, and heaps of patrol time, and a back to basics camp. The troop is now a young troop with the last of the older Scouts being awarded with their Australian Scout Medallion, congratulations to Sean and Josh. Scouts will participate in the annual Fire on the Lake camp which will be held in the first weekend of the September holidays, this will also get four scouts ready for the Australian Jamboree which will be held in Tailem Bend, South Australia in January 2019 for 13 nights.
Venturers have been really busy this term, Go Karting, Formal dinner at Mc Donald's, yes you read it right, the Venturers dressed in their finery and put on a dinner at Arena, table cloth, candles, knives and forks too.  Two Venturers participated in Whitehorse Showtime, a Scout and Guide Show. The Unit is off to Top Gear Scout in the September break to learn to drive a rally car at Mafeking Rover Park, heaps of fun.
Rovers continue 100 years of Rovers as well this year and are continuing their service at the Pakenham Bluelight. The crew have their buggy ready to participate in the Pakenham Auto Club activities as well as doing night photography, Camp cooking, Baw Baw snow day, and are planning a weekend away for the grand final weekend.
The group held their Annual Report and Awards presentation night at Clip n Climb at Berwick on the 26th July with 65 youth members climbing. We had going up ceremonies as well as youth and leader investitures. Was a fantastic night.
If you or your child is interested in joining our fast-paced group please contact us via email gl.beaconsfieldofficer@scoutsvictoria.com.au and we will get back to you, so that you and your child can visit the section prior to joining.
We need female leaders in both Cubs and Scouts, if you are interested please send us an email to Beaconsfieldscoutgroup@gmail.com
| | | |
| --- | --- | --- |
| Section | Age & Suggested School Level | Meeting Night |
| Joeys | 5 – 8 years | Tue 5–6 pm |
| Cubs | 7 – 11 years | Tue 7–8.30 pm |
| Scouts | 10 – 14 years | Thu 7–9 pm |
| Venturers | 14 – 17 years | Mon 7.30–9.30pm |
| Rovers | 18 – 26 years | Mon 7–9 pm |
If you or your child is interested in joining our fast-paced Group please contact us via email gl.beaconsfieldofficer@scoutsvictoria.com.au and we will organise a time for you to come along and try out Scouting – you get to have lots of fun, adventure and make new friends.
Written by Leanne Fraser