The late Reverend Neville Muir, a resident of Beaconsfield for almost 20 years, has been made a Member (AM) in the General Division of the Order of Australia in this year's Australia Day Honours List. He was awarded this honour for "significant service to the deaf community, and to international Christian ministry".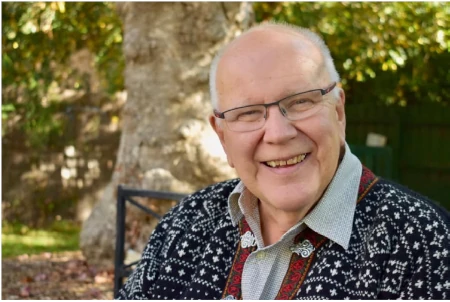 Neville's interest in the deaf began as a child. He trained as a teacher of the deaf, and when he decided to sponsor a child through World Vision, he specifically requested a deaf child to sponsor. He was assigned a deaf boy in Korea. After a number of letters to his sponsor child, Neville was able to visit him and his family on a trip to Korea. His sponsor child's mother told him that there was no church available for her son in sign language, and she begged him to help. Eventually Neville was able to move to Korea and start a deaf church, with his sponsor child as one of the initial four members of that church.
Neville was a large man, with an even bigger heart. As he heard more and more of the situation of deaf people around the world, he was moved to help. Neville went on to found Deaf Ministries International, an organisation that works in twenty-one countries across the globe to provide education, employment, and churches for deaf people. Deaf Ministries International has its headquarters in Pakenham, along with its sister organisation, Deaf Action, which operates the education and child sponsorship activities.
Neville spent a lot of time travelling in Asia, Africa, and the Middle East, touching lives and making friends everywhere he went. He would tell many stories of deaf children in remote villages who had never learnt sign language, and who did not even know their own name. All of these children were offered the chance of education. On one occasion, Neville was travelling in Zambia and was told about a young deaf man in prison. He went out of his way to check in on him, and made a point of visiting him whenever he was in Zambia. Neville became convinced that this man had been framed for murder by relatives, and began petitioning for him to be given an appeal. Last year, this deaf man was finally pardoned and released. This is an example of Neville's great compassion. He cared deeply about the people he met and would do whatever he could for them.
Neville never let lack of resources deter him, he always believed that God would provide, and would plough ahead with new projects wherever he saw the need, focussed on what he could do to help. Although this drove more practically minded colleagues crazy, Neville's faith and compassion usually turned out to be justified, and projects such as new school buildings, farms, churches, and food relief programs have been able to bless deaf people and their families around the world.
Neville passed away from aggressive prostate cancer in November 2020. He is survived by his wife Lill, and his four sons, three daughters-in-law, and ten grandchildren, and remembered with love by thousands of people around the world. It is wonderful that his legacy has been acknowledged with this honour.
Visit Deaf Ministries International at:
www.deafmin.org
by Rebecca Muir