Phone 8768 4400
Another year has begun, and we've been stunned by the flood of returning members and new faces who have joined their favourite programs.  Multiple classes are already full with waiting lists, which delights us!
Continue to get in touch throughout the term if you're interested in any of the activities in our program as we are always juggling to see if we can offer extra sessions or find a way to accommodate everyone's preferences as quickly as possible.
We're happy to announce that one of our favourite tutors has returned to offer evening floral workshops.  Sharon from Bunty and Fuzz previously held very popular classes at the Centre, so get in early to book for "Fancy Fishbowl" on the 16th of March or "Elegant Hatbox Design" on April 6th from 7.00pm. Cost is $75 each with all materials included.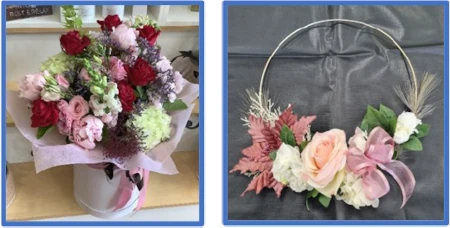 Our other florist tutor, Betty, is still doing daytime floral workshops and her "Easter Decorative Floral" is March 31st from 12.30pm.  For just $50, you will construct a beautiful table decoration for your Easter celebrations.
Following up on popular feedback regarding our cooking workshops, Mary is now available for evening sessions to share her favourite recipes and make some amazing food.  We hope that this change will enable more people to take advantage of this delicious opportunity.
Visitors to the Centre may have noticed a certain freshness this year, and this is due to Cardinia Shire Council's partnership with us to get the interior of our facility painted during the school holidays.  We are grateful to the entire team who worked to get the job done without too much inconvenience for our regular users.
Thanks to the Living Local Fund Community Grant from the Department of Jobs, Skills, Industry and Regions (DJSIR), we are also very pleased with the new bookshelves for our free book swap area which were fitted during the holiday break.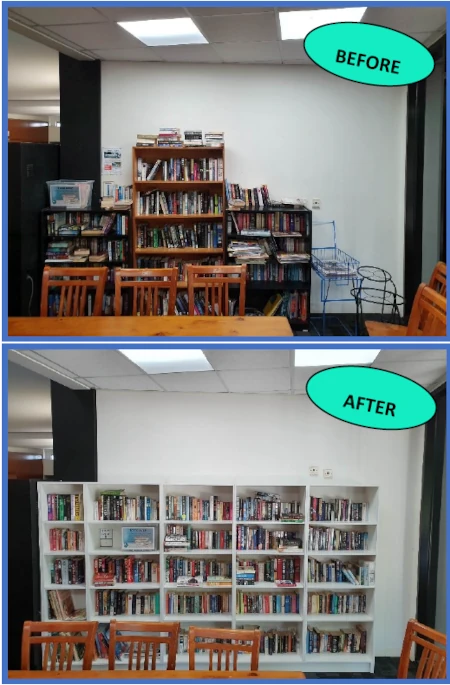 It has made the whole area feel much brighter, cleaner, and neater.  We're so grateful to David from McCormick Builders who stepped up and rescued us when we were struggling to get the work completed.
We sadly had to say farewell to our wonderful Administration and Venue Officer, Sally, when she moved out to the country.  Because she wouldn't agree to commute two hours each way to continue on with us, we went on the search for her replacement late last year. After a recruitment process that revealed so many amazing people who would fit in beautifully at our Centre, we think that we have picked the best of the best with Leanne Gelderbloem.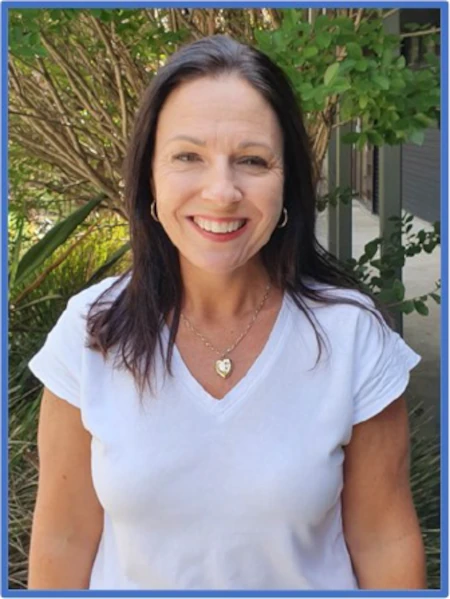 Leanne is a Beaconsfield local and is already proving to be a fantastic addition to our office team.  Leanne will be able to help with any venue hire enquiries and you will see her gorgeous, smiling face at reception on Tuesdays, Wednesdays and Fridays.
BNC Children's Room
Our amazing Children's Room staff have returned full of enthusiasm for our first year with extended 8-hour Occasional Care sessions now available Wednesdays, Thursdays and Fridays.  There is also a shorter four hour session running on Monday afternoons.
We are excited to offer our "Date Night" Occasional Care sessions which is a Saturday evening of care so that parents can enjoy an evening of child-free fun.  Upcoming dates will be advertised on our website and social media.  One-time enrolments are welcome along with children already attending our service.
Get in touch to discuss the available options for your needs.  We can put you on the waiting list for a permanent place if there is no immediate availability or you may prefer to be on our contact list for casual or emergency care.
We are delighted to introduce and welcome Nicola Holten to our Children's Room team.
Niki is working towards her Childcare Certificate III qualification and joins us for the afternoon shifts of the longer Occasional Care sessions.  Having previously used the service for her own children, Niki is very familiar with the warm environment and educational program we offer and so is fitting in perfectly.  The children attending the sessions are drawn to her lovely, calm manner and we are loving everything she is adding to our Children's Room.
Playgroup still has some limited availability for places on Mondays and Tuesday mornings.  This is a fun and social opportunity for you to enjoy various activities with your little ones and meet other local families.
You may not be aware that our Children's Room is available to the general public to hire on weekends for children's parties.  It is a cost effective way to host an event and we welcome enquiries about this space as well as our Meeting Room and Craft Room.
Hard copies of our term program are always available at Reception and the digital version is available on our website as soon as it is ready: www.bncinc.org.au.
Add us on Facebook and Instagram for the latest updates. We welcome your enquiries and feedback.
Beaconsfield Neighbourhood Centre
8 O'Neil Road, Beaconsfield
Phone: 8768 4400
Web: www.bncinc.org.au