The Berwick-Pakenham Historical Society was founded in 1961. The Society and Museum includes collections from all the towns within the "Shire of Berwick", the Shire was proclaimed on 12 May 1868. (Now Shire of Cardinia and City of Casey)
The Shire in 1961 included Beaconsfield, Beaconsfield Upper, Berwick, Bunyip, Cockatoo, Cora Lynn, Doveton, Garfield, Gembrook, Hallam, Harkaway, Iona, Koo Wee Rup (and North), Maryknoll, Nar Nar Goon (and North), Narre Warren (and North), Officer, Pakenham, Pakenham Upper, Rythdale, Tonimbuk, Toomuc Valley, Tynong and Vervale.
The Society and Museum are now situated in the Historic Council Chambers situated at 85 Princes Highway, Pakenham.
The collection is far more extensive than just Berwick and Pakenham including many items from Beaconsfield and Officer. There are donations from many local residents. The collection is diverse and eclectic, containing items such as house or business objects, garments, memorabilia, ephemera, maps, posters, photographs and more.
Examples that pertain to Beaconsfield include the following;
The Beaconsfield Football Club, Grand Presentation Ball Poster from Friday 23 September, 1955. This was a community highlight with a "Star vocalist", an orchestra and supper being served.
A poster of the Beaconsfield Sports Club Gymkhana advertisement when the racecourse was next to the Central Hotel.
Clearing Sale posters from the 1800 's and 1900's are included in the collection. These posters give an insight into properties, homes, furniture and function of local farms.
The photograph collection includes a large framed photograph of bullocks mowing beside the Central Hotel, the image depicts bullocks with hard working men and a ploughing machine in action.
On display is Kath and Morris Brownfield 's cutlery canteen that was presented to them from the Officer Patriotic Society on the occasion of their wedding.
8 May 1943. A gift from Graeme Brownfield.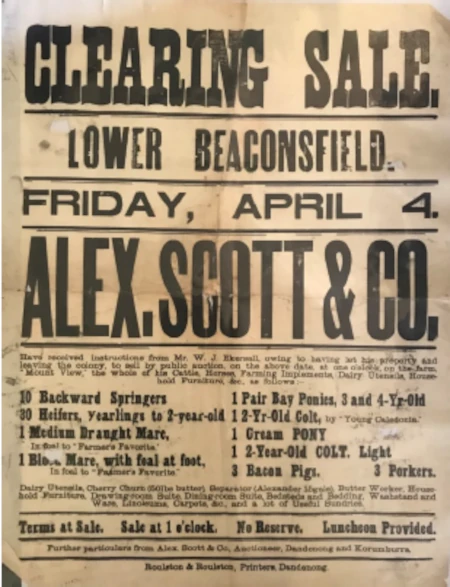 There are many local history publications for sale at the Museum. Last year a new book, Pakenham – Then and Now by secretary Audrey Dodson was published. Cardinia Shire hosted a launch at Pakenham Cultural Centre.
This year Audrey was the recipient of the Cardinia Shire Council Australia Day Award, Senior Citizen of the Year. Audrey is a well-known local resident as she taught at both Beaconsfield State School and Pakenham Consolidated School and has previously written the Beaconsfield State School history book.
To view the collection the society and museum are open each Sunday afternoon 2-4:30pm,
85 Princes Highway, Pakenham.
Contact email, bphs1961@gmail.com
by Penny Harris Jennings